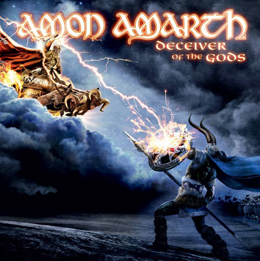 What introduction can I prepare since Amon Amarth surely are one of the 'biggest' names within the international Extreme Metal scene. I do follow them since the earliest years and I've always appreciated what they did, for Amon Amarth are one of those bands that pay tribute to the Old School, but translate this passion with a very own, specific interpretation. For sure Amon Amarth are one of the best bands ever in their specific genre.
This time, the quintet worked with renowned producer Andy Sneap (think: Testament, Dew-Scented, Kreator, Machine Head, Arch Enemy and tens of others), who gave this album an extremely 'full' but organic sound for sure. Deceiver Of The Gods brings forty eight minutes of material that we're used to, i.e. powerful, rhythmic and pounding Death Metal with a focus on both epic and melody. As said, the basics are slightly 'traditional' in its most primal sense, but for sure this stuff sounds timeless. As a whole, this album does not differ that much from any of the previous releases, but the constantly increasing professional craftsmanship, due to decades of experience, makes that each single Amon Amarth-release sort of is a next step in eternal, immortal glory and heroism.
I would really recommend Deceiver Of The Gods, because everyone will be exited for sure. There are neither weaknesses nor mistakes whatsoever. And what's more, from time to time Amon Amarth really surprises with one or another detail, how small it might be, but this album too is full of highlights and surprises (though of the predictable / common kind; damn, this sounds inferior - but you probably understand what I'm trying to explain).
Oh yes, a nice surprise: on the track Hel are some clean vocals included, provided by no one else but Candlemass' Messiah Marcolin. It's the most grooving and Doom-laden track to date as well and sort of opens new borders.