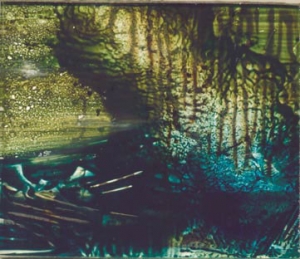 This album is a remarkable one, for it deals with an underestimated recording from quite a while ago. Actually, Yang-Tul was recorded and released on tape and vinyl in 1998 on Anomalous Records, a label run by Eric Lanzillotta. Recently Cold Spring Records decided to re-release this material (the label has quite some re-releases lately; the 25th of June 2016, for example, I did publish a review for an older and re-issued Merzbow album as well), and for this digipack CD especially, everything was remastered from the original master tapes.
Yang-Tul consists of two lengthy compositions, rather to be seen as reproductions of existing material from the project's members. The first track, Wycha (clocking 21 minutes), is a recreation of Andrew Chalk (FYI: he did draw the cover painting), based on material initially composed by Ralf Wehowsky. It was originally recorded in New York (ICR Studio) in very early 1997. Wycha is such a composition that slowly evolves, crawling out of a lightless pit towards the most obscured form of illumination (believe me, for this stuff surely is the sonic definition of such lapsus). Its birth is quite minimal, somewhat monotonous, being a freezing and tiny spark which will grow up towards an all-devastating fire. But it takes some time. The opening sequence is based on a hypnotic soundwave, a soundtrack defining the deadly emptiness of a desert, a city's ruin, after all life faded away. Actually, this sounds like quite a mysterious and mystic drone that, at the same time, feels comfortable and confronting, respiring and asphyxiating. It does not exactly evolve into an eruption of post-life experience (or whatsoever), but it's the details that permanently interact and grow. Some endurance might be helpful, but the result, despite clocking more than twenty minutes, might satisfy a poisoned brain.
The other hymn, called Chalawy (17:32), has been composed in 1998 in Karlsruhe by Ralf Wehowsky, using sound material written by Andrew Chalk and Eric Lanzillotta. For about five minutes, there is a nihilistic drone going on, balancing in between the warmth of Dark Ambient and the Arctic temperatures of Minimal Drone. Then things turn towards deeper, rawer dimensions. The whole atmosphere gets more oppressive, and the additional sounds add something frenzy, something unusual yet still attractive. The leading, monotone drone works hypnotive, but the totality, including those weird samples / sounds, lead towards a sound collage that brutally destroy every moment of mesmerizing calmth. …and still the whole remains contemplative and meditative! The last third of the piece goes even further, aspiring for both self-meditative inner-rest at the one hand, and brain-ill psychosis at the other. This unusual yet unique mixture of tribal elements and noisy sounds works quite infective, addictive, I think.
Yang-Tul is not the easiest Drone / Ambient / Industrial / Noise / field recordings album you'll experience. Actually, it needs some persuasion and motivation to get through those forty minutes of Aural Art. But you might enjoy it. Just give it a try, or a couple of tries, and you'll find out the intelligent draught.