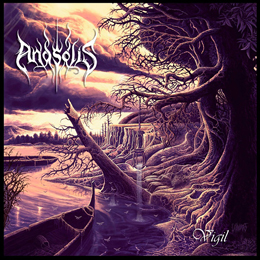 Andsolis are a young septet from Germany and, partly, the Netherlands, consisting of former and current (session) members of e.g. Edge Of Serenity, Behind The Scenery, Liquid Horizon, Athean or December Flower. The founding member, Simon Abele, started this project in 2012, and soon he did find some same-minded musicians, which eventually resulted in the recording of the debut Vigil, which has a total running time of fifty minutes.
Vigil is an album full of contrasts. At the one hand, there are so many obvious things: modernistic catchiness, predictable riffing, infantile chants, would-be grunts and irritating leads. I need some self-censorship to avoid going into extremes, but more than once these poppy things based on a fake attitude make me nauseous. And then, the sound quality… Damn, recordings as if they were done in some tin can or an empty container do suck, but this is the total opposite: as if the recording session took place during a medical operation; and that sucks too. Especially the Heavy / Thrash-laden riffs, the proggy voices and the over-compensating production are turn-offs.
But then again, some elements are totally top. Okay, it's personal and subjective, but I think the few atmospheric, somewhat hypnotic synth lines (with some creepy Hammond melodies) are just fabulous. Remember Sinoath's demo or first EP, or the earliest works or Phlebotomized?... Also the fact that this band knows to add quite some variation is a surplus (though that does not mean that they do create an own face). And in one way or another I think the intentions and ideas are quite honest.
I guess some fans of both Progressive and Extreme Metal might not dislike this album. I am sure, however, that many will share my humble opinion. There's so much better right now to enjoy, so don't tell I didn't warn you!