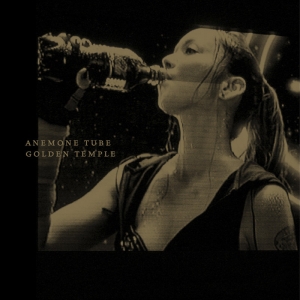 Release Date:
Thursday, February 11, 2016
I am not sure whether I must call Raubbau a sub-division of Ant-Zen, or a sister-organisation. What I do know, however, is that this label is a highly interesting one, with quite some projects on its roster that used to be part of the legendary Cold Meat Industry majesty. Next year, by the way, they will celebrate their tenth anniversary. This review will be the first one I will do for them, but I don't think it will be the last. Ambient / Drone / Industrial fans all around: pay attention, for this label, in case you didn't know them (yet) will shock and surprise!
This review deals with the Golden Temple album, the third part within the Suicide tetralogy created by Germany's Anemone Tube. Six years it took to have this creation finished, based on urban field recordings done in China and Japan, and it was finally mastered by no one else but James Plotkin (think: Coltsblood, Nadja, Echoes Of Yul, Adoran, Isis, Theologian, Dirk Serries and hundreds of others…). As a result we can satisfyingly experience almost one hour of ambitious and ingenious Aural Art.
Conceptually, Golden Temple focuses on the nastier side of our capitalist needs, our daily struggle to change the world into a place for the human race, rather than Mother Earth being home for humans and all other aspects of our beautiful Nature. Once again Homo Sapiens seems not to be that 'sapient' at all, we stupid mthrfckrs… It confronts us, the metaphysical and metaphorical way, with our shortcomings, our narrowmindedness, our own sickness called 'progression' or 'human evolution'. Damn, my misanthropic feelings take over the game once again…
So, as a therapeutic cur(s)e I will canalise my thoughts for this review on the sonic aspects of Golden Temple. The lengthy opening piece L'Homme Et Les Sirènes (clocking nearly fourteen minutes) is like a long-stretched noise-drone, a skin-scraping mechanical translation of discomfort and inconvenience, based on repetitive industrialised noises, harsh power-electronic sounds and an obscure, apocalyptic expression of post-nuclear machines taking over Mater Terra after the smart human race did destroy all forms of life (oops, I'm letting myself go once again…). Apocalyptic Fantasy (the shortest piece, lasting for 3:18 minutes) too is a droning noiscape (?noisescape?), harsh and intense in execution, yet telling a story in my mind (although it's not a love story with a happy ending). The vocal samples give a certain creepy feeling towards the end, strengthening the after-chaos atmosphere once initiated with the opening 'song'. And this evolution goes further, step by step! Tower Of Evil (The Ultimate Truth) defines the archaic basements of Chaos and Armageddon, being harsh and painful at the one hand, but highly atmospheric and even dreamy (!) at the other. Here too the sampled voices towards the end strengthen the post-war feelings. Negation Of Myth and Sea Of Lights (Golden Temple) balance on the border of dark-soundwave-oriented ambience, mixing mesmerizing reflections of the inner eye with the asphyxiating knowledge of abyssal and inherent malignancy (hail the un-glory of human life once again), the first one seen from a factory-alike way, the latter rather created within a mesmerizing, semi-hallucinogenic state of trance. Anthropocene – The Dark Abyss Of Time, then again, initially returns to the harsh intensity of the first compositions, creating raw droning noises with that repetitive character, avoiding tranquillity in order to pursue inner unrest. Believe me: it works! But as from about half of this creation, everything falls down into self-hypnotic introspection by means of calm, esoteric, even ethereal synth lines, only raped by the addition of spoken samples. Then a new Arcadian chapter starts with I, Death, Rule Even In Arcadia. It refreshes the listener's mind with the vigorous anti-elegance of the first compositions on this album, extracting the nihilism of our time into an aural definition. But it is Tojinbo – Tranquil Sea Of Equanimity (which is the lengthiest piece on the album with its fourteen minutes of duration, and composed, if I have been informed well, by a Swiss Noise musician) that encloses this sonic spectacle, slowly yet unstoppably evolving into archaism, before returning, after four minutes or so, to a semi-integer form of discomfortable introversion. Almost the ritual way, for minutes this journey travels on, bringing images of forgotten and hidden worlds to mind, and indolently waiting for the right moment to fade away into timelessness, universal nothingness, and my eternal consciousness…