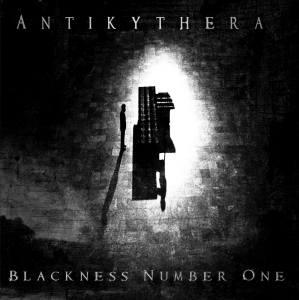 Release Date:
Tuesday, October 15, 2019
Depressive Black Ambient Records is a young label from Poland, for which I recently reviewed their first release, created by Removed From This Life. Because the label finds no reason to inhale and exhale, just focusing on chemicals and anesthesia, you can guess that any joy of life does not make sense. Or does it? Indeed it does not, though I have to admit that all releases I have heard (and I've been listening to all six of them, in the meantime – and damn yeah, all of them will surely be reviewed) do bring joy in my life. No, I do not have a huge smile on my face right now. But it's the sonic essence that gives me mental pleasure.
Let's skip that introduction and focus on this release. Blackness Number One is the debut – and sole release – by an Italian artist, named after a Greek island in between the Greek main land (Peloponnesus) and the isle of Crete. It's a nice island, with an ancient culture and great food (and wine), but since this isn't some touristic brochure, I will skip this too.
Blackness Number One (I hope that number two, number three, and so on, up until number six-six-six, will follow) consists of three extremely lengthy pieces, clocking fifty-three minutes. The album opens with The Arrival (twenty minutes of duration). The introduction on that one will continue, and it does show a first glimpse of Antikythera's eccentric, eh, 'Music'. It sounds very intriguing, uplifting, this form of doomed machinery, these industrialized drones, intoxicating rhythms and hypnotic ambience. There are many layers of sound, being processed, digitally manipulated, and organically destructed once again. Like a pushing thunder, softly and gentle, yet malignant and ominous too, the composition rumbles forth, further, deeper, higher and permanently overwhelming and oppressing. Synths and samples, noises, a whole gamma of sounds are canalised into an asphyxiating adventure, with ethereal, industrial, blackened and ritualistic aspects. After seven minutes and something, short moments of disturbing tranquillity enter, subtly, modestly, but convincingly too. But the march goes on, pushing limits, evolving and growing. At about half of this 'song', that militant structure gets joined by psybiental experimentation, eerie waves of frenzy psychedelics, once again subtle yet undeniably meaningful. Later on, even samples from voices (by the human entity himself, or taken from any source?) get used to strengthen the claustrophobic atmosphere.
Epitome Incoherentia (this composition clocks eighteen minutes)) is at least as dark, and this as from the opening sequence. With a collage of truly oppressive synth-waves, these first moments hypnotize in an overwhelming way. A portal to an infinite dimension of dystopian mood gets painted like a colourless canvas. Soon however things turn more energetic and uplifting, with tribal and electronic percussion, spacious additions, droning noises and lots of samples. These samples come from different sources, and contain, amongst others, choirlike chants or mournful yells, spoken words, artillery fire and broken glass (I think…). The electronic beats and metallic strings drench the whole into a harsh, heavy veil of poisonous air. Slowly on, step by step, Epitome Incoherentia crawls forth, exploring untrodden worlds with the Inner Eye, searching for salvation and escapist relief. The richness of noises and synth layers is arousing and at the same time confusing and disturbing. Towards the end, everything turns enormously bombastic, with the reintroduction of choir singing and increased layers of keyboard manipulation.
With its length of 15:21, Ka-Nti-ka is the shortest elegy on Blackness Number One. Here too, the very short introduction immediately strikes: shamanistic voices and folksy chants, weird noises, you will experience a brief moment of wonder and marvel. Yet soon things evolve into brutish and crude malignancy, with tribal elements, electronic devices, elements from Black Ambient, deeply-rumbling drones, and even some subtle hints from ritual Power Electronics. There are so many exceptional elements: Gregorian chants, morbid string machinery, low-tuned dubbed basses, and intolerant sound-rape whatsoever. The core remains the same, but the permanent evolution and continuous shifts and twists create a really alienated experience.
My conclusion will be short. Antikythera bring a very arduous and anti-pervious work under the Blackness Number One banner. But despite its inexpugnable character, it is that deeply addictive result that craves for endurance and bravery to go for it again, and again, and again. Not for the weak, yet recommended for the masochistically disordered amongst us!
https://www.depressiveblackambient.pl/p/antikythera_7.html
https://www.concreteweb.be/reviews/removed-life