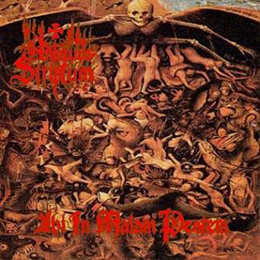 Album Title:
Abi In Malam Pestem – In Pulverem Reverteris
After he left Firstborn Evil at the end of last century, Jorge 'Sacerdos Magus' Magalhães formed Antiquus Scriptum. He had some ideas for quite some time that didn't quite fit to the style of Firstborn Evil, so he took the decision to leave in 1998 and start his own (solo) project. After the recording of some demos, he signed to Ophiucus Records to release the Antiquus Scriptum-debut Abi In Malam Pestem in 2002. In 2008, the very same label released the sophomore full album, Immortalis Factus. Both of them have now been re-released via the current label Antiquus Scriptum are signed to, Pesttanz Klangschmiede (FYI: it has been re-released several times before throughout the past years, both officially and as bootleg). The reviews on Immortalis Factus and 2013's Ars Longa, Vita Brevis…, the fourth full length under the Antiquus Scriptum-moniker (there was another full length in 2011, Conclamatum Est, released under Talheim's flag), have been updated on your beloved Concreteweb-site on July 20th  and July 13th 2014 respectively, for your information.
Abi In Malam Pestem, which was the debut, was recorded at the Mosh Pit Studio by Paolo 'Nyx Sludgedweller' Vieira, a musician of the Vieira-clan (together with Gustavo and Ricardo Vieira, Paolo worked intensively on Jorge's Antiquus Scriptum-project since the early years, as both producer / mixer and session musician). The album clocks almost forty minutes (this re-edition lasts longer, for it contains the In Pulverem Reverteris-demo from 2000 as bonus). It opens with Principium: Cosmogony (The Creation), an ominous and horrific intro with an orchestral-operatic approach. Great! Then follows mostly grim and malignant majesty, based on fast and aggressive Black Metal in a suppressive, bombastic way. What strikes me as from the very beginning is the symbiosis in between fast and furious rhythms and attention for melody. The impressive totality is very, very heavy, overwhelming and powerful, but with a huge dose of variation in execution. An example is the duration of the tracks; some last for a couple of minutes, while others clock nearly, or over ten minutes. Some pieces are harsh, lightning-fast, ultra-aggressive and battering, others acoustic, integer and introspective, some pretty Folk / Pagan-oriented (there are many influences from the Celtiberian history), some nineties-inspired and others timeless, and so on. One might find this diversity disturbing and / or incoherent (and maybe it is), and that's why I might warn you, so that you can deeply listen to this material several times before taking a conclusion. I for myself, however, do appreciate this effort, because of the fantastic ideas behind it. This album for sure was an excellent Antiquus Scriptum-starter, promising more crafted material to come (and check out the other, recently posted reviews, and you'll notice that indeed it does).
This re-release contains, as mentioned above, the 2000-demo In Pulverem Reverteris as bonus. This one was initially released via Eye Of Horus Creations, nowadays defunct and initially run by Sacerdos Magus himself.  Eye Of Horus Creations did release both former demos too (Antiquus Scriptum had two demos in 1999), as well as the demos of Grind / Death band The Invertebrate, which Jorge was part of as well, by the way. This material is, of course, mostly comparable with the first Antiquus Scriptum-album. This stuff too combines different angles from the dark-edged musical spectrum. The focus lies on fierce and intense Black Metal with both melody and aggression as keywords. The whole is interspersed with elements from orchestral and classical symphonies, Pagan-oriented epic, and integer Folk Music (the Iberian peninsula was populated by Celtic tribes, which is the main source of inspiration for this project). The main difference with what's to come might be the extreme energy. Abi In Malam Pestem and Immortalis Factus are enormously heavy and intense, as written, but this demo grinds and smashes with a merciless attitude. The title track, listen to it, says it all…
In case you might miss this demo, or the debut full length, or both of them, then this is not an option, but an obligation.