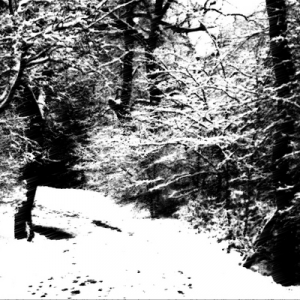 ~~With pleasure I present you a new review for the small yet unique French label Distant Voices. They're 'small' in the meaning that they do release only a handful of albums each year. Quality prevailing on quantity must be their motto, and that also returns in the artistic totality of each release. It goes, of course, for the sonic result of each project involved (and every album that gets released by this label), but every single release is handmade and hand-numbered. Therefor all releases are strictly limited, with no repress possible afterwards.
This goes as well for III by Arbre. There is a so-called Neige edition, but is was limited to thirteen copies and sold out in mean time (what else did you expect), and a 'regular' edition, done in an edition of fifty-four hand-numbered copies. The latter includes a black cardboard sleeve and white inserts with very nice black-and-white photography of snowy landscapes (trees [*] indeed, covered with snow) – things that seem to be standard in this label's wonderful creations. My copy was wrapped in a carton paper, carefully tied together (making me doubting about whether I would open the package, or leave it unspoiled…
[*] 'arbre' means 'tree'…
Arbre aren't a new project on Distant Voices. The albums I and II were on this label as well (for II, you can find a review on the update of July 14th 2014), and so was the Brouillarbre release, a split with another excellent French one-man army, Brouillard (review published on December 24th 2015). And totally in the vein of the past, the four tracks are continuously numbered: XIII up to XVI. III (the album, evidently, and not the song, for that one was on I – the album – just like I, the track – are you still with me???) – so, III lasts for forty-eight minutes (indeed, four lengthy pieces, lasting in between ten and fourteen minutes)), and actually, once again, it goes on in the vein of the former material. That goes for the sound quality too. The production, well, is quite crispy and noisy, with, to my opinion, a mix that inferiorises and denigrates the performance. If there are bass lines, you cannot decipher them from the mish-mash. I also think that the vocals might have been mixed little, very little more to the foreground, as well as the lead trems. And the drum computer's sound is way too artificial. Here too I would have puked on a clinically well-polished sound, but I think it might be little too disappointing. Yet still, compared to the past it does somewhat, somehow approve for sure.
Composition-wise, III is a perfected continuation of the past. With XIII you will immediately notice: opening with a noise (rainy?) sound (which is sort of the permanence, the glue in between the four epics), soon accompanied by several layers of acoustic guitars with quite a melancholic and desolate atmosphere. And then suddenly, after three minutes and something, you have that militant and mechanic eruptional malignancy, with fast and hypnotic guitar riffs, a battering drum computer, and those grim, wretched screams. Soon this evolves towards more epic elegance, yet permanently withholding the inherent evilness and grimness. Heroic anthem excerpts, blasting eruptions and melancholic soundwaves fluently and organically interact with each other. It might sound less dramatic and more extravert and evocative than before, but I guess that's the main difference, negligible in a literal sense of the word, for Arbre still show up with a very own-faced attitude and performance.
A thing that still typifies the execution is the injection of several acoustic excerpts. In some band's cases I surely dislike those, but in Arbre's case it isn't but a surplus. These acoustic intermezzi are, at the same time epic (more than once my thoughts go to the glorious Viking-Black scene from the earlier nineties from Scandinavia), as well as melancholic and integer, without faking false emotions. Besides, these acoustic excerpts are like a glue, a natural glue, in between different yet cohesive chapters of blackened grandeur.
Two paragraphs ago I started with 'a perfected continuation'… Perfected means something, and it has to do with the progression Arbre made in its song writing and execution. Take a hymn like XV or XIV, for example. They're less desolate and, for sure, remarkably more epic and victorious than before, with that glorious atmosphere, those heroic choirs, that pagan atmosphere and that hammering we will never surrender attitude.
May the night be your love…