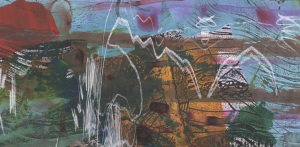 Cold July Water is a co-operative work by two famous Experimental / Ambient / Drone artists, Arthur Arsenne and Vitaly Maklakov. First a short introduction on both of them.
Frenchman Arthur Arsenne aka A.Arthur is the owner of Arsenic Solaris and Death Carnival Records (for both of them I wrote some reviews, and there are some more to come – check it out via the 'search'-tab). He's also active as musician under his own name, as well as under the monikers L_Arsenne, Mitantecuntri, The New Apsurd, Endemouniat, or LOC (Lands Of Conifer) (here too: in case of interest, enter one of those names; I promise you that (most of) the recordings done by one of these projects are surely worth being promoted).
Vitaly Maklokov is an experienced Noise artist from Russia (a country with a huge potential on Drone / Noise / Ambient artists and labels) with numerous releases via specialised labels such as Ostroga or Heart Shaped Box Prod. (both owned by himself), + being active as solo musician under names like Obozdur, Light Collapse or Kromeshna, and involved with e.g. Ego Collapse (with Germany's Ego God) or Nigdeniya.
The duo is working together for a first time, I think, under the Cold July Water banner, resulting in four quite different and lengthy compositions (fifty-five minutes of length). They are released in a splendid carton-card package, created by Vitaly (artwork), and released via Arthur's original label Arsenic Solaris in an edition of (only) 300 copies.
First piece is Isolasionist Parable, which initially combines Field Recordings and Musique Concrète, sounds both disturbing and confusing. Despite the minimal approach, there is a certain thrill going on, getting strengthened at about half of the track, when a haunting noise penetrates the eerie mish-mash of noises. Although the nihilistic asset remains, you get deeply drawn within a story that has been untold. With the next track, Massive Kacophony, thing turn unto another direction. A fabulous symbiosis of Ambient Drone and Ritual Noise forms the basement on which ominous sound layers weave their impenetrable web. Like astral winds blowing through the cosmos, those noises are like entering a new dimension, somewhere in between surrealism and the subconscious. As from half of this composition, monumental droning overpowers the experimental exploration, and like the title suggest, 'massive' indeed is not a coincidentally chosen word. Yet still a dreamlike peacefulness awaits… The Old Crush opens in a hypnotic manner with some icy, droning soundscapes, floating on clouds of introspection and intimacy. It's like a long-stretched wave that trespasses mankind's known awareness, exploring senses beyond imagination. The title track, finally (with its nineteen minutes of length it is the longest piece on this album), is quite the opposite. While The Old Crush was moving towards the tranquillity of man's inner eye, Cold July Water is trying to escape from any introspective attitude. An experimental complexity of harsh sounds works in a disturbing, uncomfortable way, testing the listener's endurance and patience. This combination of Harsh Noise, Experimental Noise and Abstract Noise slowly evolves, from a painful and even sadistic sonic execution towards a haunting, suffocating anti-organic expression of distress and degeneracy.
This album surely shows the professional characteristics of both members involved; each of them moving forward, then again handling over the reins to the colleague concerned. But it does surely befall in a natural way. It is fantastic to notice that Arthur and Vitaly did compose a convincing, inspirational album with four epics that are quite differing from each other at the one hand, yet maintain the typifying craftsmanship of both individuals as well.