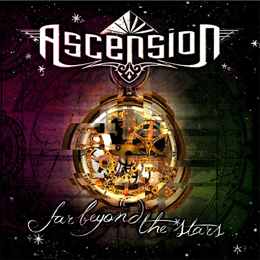 Line up:
Nick Blake – bass
Fraser Edwards – guitar
Ricki Carnie – Vocals
Stuart Docherty – guitar
Dick Gilchrist – drums
Far Beyond The Stars the long awaited album from the Scottish band Ascension is a fact. It took them very long to come out with a full length album but the results are good. Blending elements of modern power metal with pieces of speedmetal and a very melodic pieces in it gives the album a solid sound and it hits you directly. The band gets their influences from Helloween, Edguy, there are even bits of Iron Maiden in it.
Formed back in 2004, the band went through a number of changes before settling on the lineup of vocalist Ricki Carnie, guitarists Stuart Docherty and Fraser Edwards, bassist Nick Blake, and drummer Dick Gilchrist. The band seems to be seeking a return to the roots of metal by focusing on guitars and eschewing keyboards and synths.
'Somewhere Back In Time' is the first song on the album and it immediately sets the pace. Superfast riffing, galloping drums and a very melodic bassline in it. Every track on Far Beyond the Stars is a potential single, purely because each song has the wow factor needed to hook a listener. There are also acoustic songs on the album giving Far Beyond Stars that extra bit of completeness.
You have to get this cd in your music collection if you are a fan of power metal, but it's also a great album for the regular metal fan.