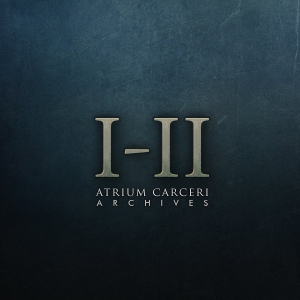 Cryo Chamber Records are a label based in Oregon, 'focusing on high quality Dark Ambient with a cinematic edge'. The label was started by Simon Heath, the human entity behind projects such as mighty Za Frûmi, Sabled Sun, Abnocto and others, but especially known from Atrium Carceri. For most projects on his label, he takes care of both artwork and mastering too, by the way (cf. ProtoU, Dronny Darko, Council Of Nine, Ugasanie etc…). Via his own label, and under the Atrium Carceri moniker, Simon recently also released a sort of reworked compilation, created as from 2005 till 2015 (so it covers quite an impressing period of this project's existence). It's a collection of unreleased material, b-sides and extremely rare stuff, re-edited and remastered, and sort of woven into two lengthy yet cohesive compositions, both with their own character.
Well, it might seem quite add at first sight listen, for actually Simon collected quite some known and unknown works from the past, in order to reedit them into two lengthy aural adventures. I do not have the impression that there is a concept this time, especially when knowing that Archives I-II compiles material from different eras. It does not matter, however, for both pieces have been carefully created with, in both cases, quite a cohesive expression. To be honest, the first time when I listened to this album, I didn't know yet that this was a work consisting of different fragments from the past. That means something. It means that the artist behind the project was able to create an own universe, to make it sound as a whole, as if this album was a totally new conceptual creation.
The first outtake is the most droning piece out of two, based on hidden reverb, transient field recordings, minimal waves of noise and dramatic soundscapes. There are permanently changing layers of arousal and, then again, integrity, melting over in each other the most flawless manner. I hear fragments of mystic rituals, eerie and cold mind-introspection, cinematic ambience and outer-dimensional hypnosis (I admit: this is quite a trans-depth description, but I wanted to pay attention to the diversity and, at the same time, the cohesion as a result).
The second creation has little more 'energy', and trespasses the minimalism of the first archive. There is more depth into scarifying regions of the aural spectrum, much more variation and excitement in play and melody, and less inner rest actually. The interludes of cosmic IDM-alike supremacy and post-apocalyptic electronics are presented much more to the foreground in this second chapter, giving the result a higher level of kinetic presence and excitement. Okay, there is some repetition from the first composition going on (I am pretty sure Simon might have used some pieces more than once???), but the general attitude is quite more 'alive'.
I wonder how intense these recording sessions have been for Simon. I am convinced that he did not just put all those older piece together – the time and energy he did put into this project must have been overwhelming. Archives I-II is a new step into Atrium Carceri's rich history, quite recognizable at the one hand, and once again distinctive as well. But anyway, this execution of Dark Ambient in quite some forms reminds the listener to the excellence of this genre, with projects like this one acting as protagonists.