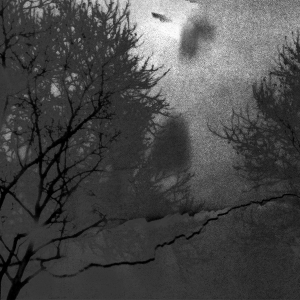 Release Date:
Tuesday, November 1, 2016
When talking about the French Distant Voices label, I usually go into superlatives. That label deserves this for sure, and this for a couple of reasons. I like the crew behind, for they are really devoted to the scene, preferring craftsmanship and identity above profit. I like the few projects involved, for that's the kind of Aural Art I do simply adore. But it's this label as well that does release quite everything in a strictly limited yet totally handmade edition. There are several labels doing so lately within 'my' styles, but in Distant Voices' case it's nothing but superiority when it comes to the physical output.
Of course quite the same goes for this release, Mauvais Augure… by Aube Grise. Actually, Aube Grise are the outfit of Anna M., who's part of this label's crew. She did take care of many lay-out efforts before, but she indeed has her own sonic outcome under the Aube Grise-moniker. In very early 2016 there was a first release under this banner, called Feue, and the (fabulous) review was published on February 9th 2016, in case you're interested. Now Anna M. returns with the sophomore Aube Grise album, which was recorded in Spring 2016, and mixed and mastered in August. Song writing and performance are totally courtesy of Anne M. herself, with assistance of label owner Thomas Bel, who did the clean vocals on a couple of songs on Mauvais Augure… Of course, Anne M. took care of the artwork (including front cover, lay-out and photography) as well. The result comes in an edition of (only) 59 handmade and hand-numbered copies.
With Feue I was limitedly impressed; I did not dislike the effort at all for several reasons (see review), but I wasn't totally blown away either, caused by the worse sound quality and the repetitive song structures. Yet still, the benefit of doubt took the overhand. So I was really thrilled to experience this sophomore full length. Mauvais Augure… starts at least quite enthralling. Opening track Tes Yeux Brises starts with a brave acoustic intro, a melody on acoustic guitars that makes the listener both aroused and curious. After a minute and a half, it turns into the core of Aube Grise's aural reason for existence, when everything turns into the primal heart of, well, let's call it a typifying form of Distant Voices-oriented Black Underground Metal. But hey, it catches me immediately, in contrast to the former recording!
In essence, Mauvais Augure… goes on in the vein of Feue, but it did grow in every aspect. Let's start with the sound quality, for example. Okay, still the production is enormously lousy, bad-tempered and unpolished. The rawness prevails on a clean approach. But then again, it does sound less noisy and 'flat' than before, so that's a positive element. Besides, the mix does focus on much more details this time. The drum sound (computer?) is very present from time to time, and the basses aren't always as prominent. Yet the balance is much better. And Within the intermezzi, like acoustic chapters, I cannot but appreciate the fine transition.
Song writing-wise there has been an enormous progression too. Still the compositions are quite repetitive and minimal in writing and performance, but there is so much more 'depth' and 'content', to my opinion. The whole atmosphere is filled with ominous, ghostlike spirits, balancing in between neo-romantic elegance and depressive, even hateful anger. And I think that's exactly the goal, the aim of this record. Mission accomplished!
There is a huge amount of 'melody' involved – the guitar lines permanently create hypnotic waves of melancholic and / or dreamlike melodies. It gets violently malformed by a brutal rhythm section, with a drum (computer?) that hammers and beats the *** out of the listener. And then, those voices: distant voices indeed, but they are really great, I think. The screams are quite 'far away', which has something mysterious and even occult, but without turning towards a pathetic level of fake occultism.
Surpluses are the additions of piano parts (very nice, in the vein of the lesser happy classical composers, inspired by the likes of Claude Debussy (listen to 1909, for example…), Eric Satie, Arvo Pärt a.o. [list of inspirational sources taken from the bio – Ivan]), and the addition of some subtle field recordings and environmental sounds.
Within the speed too, there is quite a progression. Some pieces are truly slow, marching on like a doomed funeral march, taking time to reach the other side. Then again, some other parts are fucked-up, storming forward to a sudden end. The mechanical drum programming, at such moments, strengthen that hyperkinetic feeling.
In conclusion I have to say that I am truly impressed by the evolution Aube Grise made in comparison to the former release. There are two new recordings in mean time, called Hanterieur and L'Encre Et La Terre, and to my opinion these ones are… No, I will write and publish these reviews soon – until then you'll have to do with this one. But as mentioned: Mauvais Augure… is a recommendation for DSBM adepts for sure!