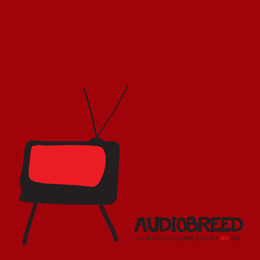 Album Title:
All Shades Of Coulours But Only Red I See
Release Date:
Monday, September 22, 2014
Casket Music/ Copro Records – Catch-up, part One! (for details, see review David J. Caron)Getting straight into the nitty-gritty of things, Audiobreed is a Heavy Rock/ Southern Rock/ Stoner Rock act founded in Piraeus (Athens), Greece, during the year 2008. Following loads of shows and a couple of membership changes, the line-up eventually settled down in 2010 to include Manos T on the vocal strings, Marios V on the "high"-end strings (somewhat down-tuned guitar), Takis V on the low-end stings (bass), and Thodoris taking care of all battery, a lie-up which recorded the debut album All Shades Of Colours... during the year 2012. Somehow the band got the attention of, or got in contact with the UK's Casket Music, who released the album "worldwide" (check the intro to the David J. Caron for my thoughts on that) in Sept. 2013 (apparently after having first decided on an Aug. 5 release), with a Greek release of the album on July 8!Since then, the band has shared the stage on tours with the likes of Nightstalker, Planet Of Zeus, Lucky Funeral, and Cherries On A Blacklist, and while the band continues to do gigs, the members are already writing new material. On the side-line, the debut album's song "I'm Done" was chosen for inclusion in Heavy Planet's second online compilation Bong Hits From The Astral Basement, Volume 2, which includes no less than 100 tracks, and is downloadable for free...at nó cost at all!As for my more in-depth goin'-over the album's material...forget it! If you're into a combination of Heavy Rock with Stoner and Southern Rock, with the occasional Hardcore Punk touch, then this is simply right up your alley, and since you're offered the opportunity to listen to the complete album, by simply logging onto the band's website (www.) audiobreed.com (player starts automatically), why should I spend time on elaborate explanations, when all I wanna do is enjoy the album?