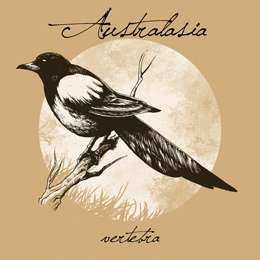 Release Date:
Tuesday, September 30, 2014
Italian duo Australasia returns with their second album, one year after the highly acclaimed Sin4tr4-EP (which was released by Golden Morning Sounds). But probably you might know this act from their interpretation of Thin Peaks Theme, originally written and composed by Angelo Badalamenti. In mean time the project signed to Belgian label Immortal Frost, and the result is the release of Vertebra.
Vertebra was recorded once again at the famous 16th Cellar Studio with Saul Morabito (known for his studio duties for bands like Theatres Des Vampires, Nefertum, Fleshgod Apocalypse, Murder Theory a. o.) at the helm. And let me start about the artwork. One word: wonderful! The cover drawing shows a magpie on a branch, in black and white with a sandy light-brown background; nothing more than that, but it truly fits to Australasia's nice music.
The opening track is called Aorta (Australasia have a very characteristic way when it comes to their titles: one-word titles with a deep meaning, as mysterious as it is primal), and it shows what this duo is capable of: bringing a truly unique mixture of introspective and integer Post-Rock melodies with hypnotic Doom / Post-Metal parts, filled with vibrant elements of Shoegaze, Blackgaze and atmospheric / classic details. What about the voices at the end of this opening track, for example? Vostok, the next track, starts with some vintage Electronics (note: 'vostok', it's also the moniker of another act that is / was on Golden Morning Sounds' roster, the label that released Australasia's former album Sin4tr4; but this is just an informational addition which has nothing to do with this specific release; but you're welcome anyway… But hey, the female vocals seem to have done by Vostok's Mina Carlucci, so once again we can enjoy the full circle…). These electronic elements re-enter throughout the whole track, giving it some space-like dimension. Zero shows a more abyssal, obscure and bleak side, yet still based on grandiose melodic patterns and breath-taking rhythms. It's a dreamlike song with a pronounced heaviness. And that's how this album can be described in its totality: mixing esoteric and trippy Post-Rock with electronic elements and some (or better: more than just some) powerful parts. Aura, for example, reminds me to a loungy Post-Rock interpretation of a mixture in between Cranes and Dead Souls Rising's debut album (sometimes you need some fantasy… But listen, compare, and you will agree). And throughout the whole album, there are several elements that refer to the Black Metal scene as well. No, I am not talking about the Second Wave revival or some nasty-ugly Thrash-injected form; it's rather the Atmospheric / Funereal Black Metal / Blackgaze approach I am referring to. And that's what fits.
I cannot but mention the video clip for Antenna (actually, this is one of the songs, two in total, that were on Sin4th4). What a great visual experience! It was created by Tim van Helsdingen, a young yet very talented guy with some respectable and remarkable creations. You might know the clip on Fragile (also of a unique level), but Antenna is a true eye-satisfaction! Check the joe-tjoeb-thing…