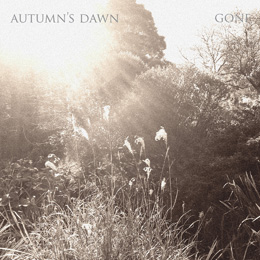 Tim 'Sorrow' Yatras is one of Australia's most active guys within the Music-scene, with activities ranging from Pop, Pop-Rock and Electro-Pop to extremer sides of aural pleasure, such as Doom and Black Metal. I won't go over the Pop-related stuff, but heavier acts he's involved with, and which you might know, are Pestilential Shadows, Austere, Woods Of Desolation (as session member), Germ, Battalion or Grey Waters, amongst tens of others. In this project, he (vocals, drums and keyboards) works together with Mat 'Anguish' Bell (guitars, bass and keyboards, and engineer), involved with e.g. Folkearth / Folkodia, Troldhaugen or Rise Of Avernus. The both of them created the debut Gone, which lasts for thirty eight minutes.
And as from the opening riff on The Ashes Of A Life, I am confused; and at the same time I am not either. When I listened to Germ's album Loss (posted on Concreteweb on January 8th 2013), I wondered what was going on. It was a mixture of different styles, all mingled into one album, with every extremity in it: from Soft-Electro and Radio-Pop to modern and epic Metal. and the very same unnaturally and incoherent approach goes for Autumn's Dawn Gone-album too.
Take the opening song I just mentioned. It starts with a melodic and modern Metal guitar riff and a catchy rhythm section, joined by melodic vocals; this reeks of catchy Gothic Rock / Metal with a popular identity. But there's more to come, first with sudden screams, then with an intermezzo that combines ambient and electronic melodies with a Post-Rock attitude. The song ends with a melodic guitar solo that reminds me of the traditional Metal school. The next track, Until My Heart Corrodes With Rust is initially a Gothic / Doom-Death piece with catchy melodies, that soon evolves into another poppy Metal thing. Throughout the song, both genres interfere whole the time, once in a while interspersed by intermezzos based on a semi-acoustic leads or emotive riffing. And to be honest, the whole album goes on in this modern vein. There are hints of Metalcore, Black Metal, Gothic Rock and Gothic Metal, Symphonic Metal, Post-Rock, Indie, Modern Post-Metal, etc.
You might consider it an amalgam of elements from Tim's projects Germ (though much less experimental or poppy) and Grey Waters, or material à la Ruination, Mono, Your Tomorrow Alone, Sentenced, Dark Legacy etc.; even Lacrimas Profundere, Children Of Bodom and Draconian might come to mind…
I think it's boring. I do not like the simplistic catchiness. But that is my personal opinion, of course, for there will be an audience that adores this album for sure. But it does not impress me, neither is it memorable. One thing, however, is great. The stuff gets labelled (by both Eisenwald and Autumn's Dawn) as 'depressive'. That's correct, it does depress me…