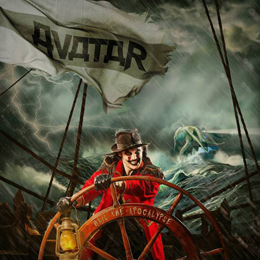 The Swedish band 'Avatar' debuted eight years ago with 'Thoughts Of No Tomorrow'. They had influences by bands such as: 'At The Gates', 'In Flames', 'Rammstein',… they were a great inspiration for the band but with their previous release 'Black Waltz' they had found their own way.
Now with their newest album 'Hail The Apocalypse' they have strengthened their individuality. The influences are still there but they gave it their own touch. Vocalist 'Johannes Michael Gustaf Eckerström' sings very brutal in most of their songs but the backings are a bit softer in the choruses.
They begin the album with the title track 'Hail The Apocalypse' it starts with a very compelling riff and it comes back a few times in the song. I immediately searched for some clips of the band because I saw some pictures of them and the make-up of vocalist 'Eckerström spoke to me. The clip is awesome, it's a mute film with dark humoristic influences, and I must admit that the song sticks.
'Death Of Sound' starts off with a nice clean bass 'solo' and goes over in a blistering hard pace. The drumwork of 'John Alfredsson' is very solid and it blends in well with the rest of the riffing. 'Bloody Angel' is a bit softer song but they still managed to give a heavy edge to it by alternating with heavy riffs and the heavy vocals by 'Eckerström'. The band members are apparently fascinated by the circus, and you can hear that in some of their songs such as: 'What I Don't Know' and 'Puppet Show'. The circus music influences blend in very well with the heavy riffs.
Also remarkable is the 'Nirvana'- cover 'Something In The Way'. 'Eckerström' and Co did a nice job on that giving it their own dark touch.
'Avatar' is  intriguing and 'Hail the Apocalypse' is beyond my expectations. The album is an enjoyable experience , very groovy and different from contemporary metal albums. It is honest. It has a live sound that makes you want to check them out live. It's melodic heavy metal packed with catchy and memorable riffs , but also with captivating and creative sounds. Hopefully they can break through because they deserve it.