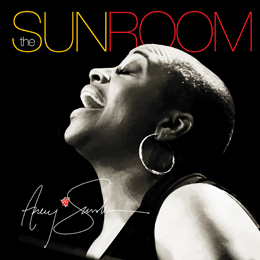 Sometimes I dó wonder why our editor-in-chief downloads certain things for review! Sure, he's a much-occupied man, and downloading is a chore which comes atop of his daytime job and the other duties entailed with part-time band managing. But occasionally he shoùld check the enclosed info sheet which comes with the downloads! So, what he would've learned right-off, is that singer-songwriter/ pianist Avery Sunshine makes feel-good music with a Gospel-fed, thunderous voice! Not really something which ought to belong on a website which originally carried its "concrete" part of name with a specific reason ("concrete" being the translation for the Dutch word "beton", and that being used in synonym with all music Hard and Heavy)! Well alright, that being said, over the last couple of years even he (whom comes from an original background of Thrash metal) has expanded his musical taste somewhat, and by passing this review job onto me, he chose the only person in our group whom could actually appreciate the offering...so let's get into the "business" of unraveling this artist's history, shall we? (info taken & re-written from Wikipedia)
Hiding under the stage name of Avery Sunshine (occasionally written AverySunshine) is one Denise Nicole White, born in Chester, Pennsylvania, a suburb of Philadelphia. She began playing the piano at the age of 8, after seeing a classmate perform. By the age of 11, when she started studying classical music, she was already able to read hymns, and at 13 she expended her repertoire to include Jazz. Shortly after, she had her first recital. At the age of 16, she was asked by her aunt (a church choir director) to fill in for her during a Sunday service at a Catholic church, and she was subsequently hired by several different churches.
Already singing in her high school choir, Denise graduated from the Country Day Of The Sacred Heart in 1993, and subsequently attended Spellman College in Atlanta. Although she enrolled as a Piano major, she got disillusioned in the music program, and switching to Philosophy, graduated in '98.
While at college, she met Maia Nkenge Wilson, a vocal major, and together they formed the Gospel and R&B duo DaisyRew, which became not only rather popular in several churches of the Atlanta area, but also performed in Africa. After college Maia was cast in a Broadway role, but DaisyRew would perform whenever she found time to return to Atlanta. In the meantime, Denise was hired as Minister of Music at the St. Paul AME Church in Atlanta, and it's there that she met guitarist/ producer Dana Johnson (whom had previously worked with prominent artists India.Aria), which led to the trio working together in 2003, with Johnson writing and producing the music, as well as managing DaisyRew. Soon after however, Maia was again cast in a Broadway role, and she returned to New York. It's at this time that Denise took on her current stage name AverySunshine.
In 2005, Avery and Johnson recorded the track "Stalker", a neo-Soul song, which a friend set to a House beat. As a result the track became a Dance hit on a Japanese record label, and this led to a series of shows in Japan. Avery and Johnson eventually started work on what would become AverySunshine's self-titled debut full-length, which was released through their own label BigShine to positive praise from the media, with even prime time TV channel USA Today taking notice and hailing her work as being "refreshingly original"! More praise came from iTunes (who made her "iTunes Best of 2010"), Soultracks Reader's Choice ("Bes New Artist") and Creative Loafing ("Album Of the Year Selection"). Besides taking on jobs as a keyboardist with the likes of Tyler Perry and Jennifer Holiday and serving as choral director for Atlanta performances by artists such as Michael Buble, David Foster, and Anthony Hamilton, AverySunshine toured consistently, creating a global fanbase throughout the US, the UK, Europe and Africa. Work on the new album started in November of last year.
Which puts me back to the second part of the introductory paragraph of this review, where AverySushine's music was already described generally as Gospel-influenced Soul! Very important in that type of music, is the use of a backing choir. As for the instrumentation of the music, that's actually quite varied, but with a preference to electric piano based tunes, onto which one can occasionally find a guitar being played...which actually performs nicely in the album's opening track "Won't You Try". And now you know something funny? After that first song, where I wàs actually seeking out the guitar, I couldn't care about that instrument's presence anymore...because I was completely swept off my feet my the vocal charms of the performing vocalists. If you're looking for a release from the daily grind, or wanna wander off into a music style you're maybe not familiar with, there's nothing I could recommend more than what AverySunshine has on off. At (www.) averysunshine.com's homepage, you'll find a music player with the new album's song "Call My Name", which is a perfect representative for the album's piano-based songs. The audio and video material (the latter also featuring live and studio footage) posted at (www.) facebook.com/averysunshine is older, but also still very representative.