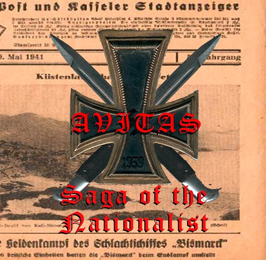 Release Date:
Wednesday, August 20, 2014
On July 20th 2014 Concreteweb updated the new Avitas-album Northern Ghosts. But since sole member Patrick Myrtroen, who also runs the Bud Metal Records-label, did send us the 2009-album Saga Of The Nationalist too, I will be that sweet to have this material reviewed too. You're welcome…
Avitas are a political inspired project with an Atheistic Libertarian Nationalistic philosophy (for sure not of the pure racist NS-kind), strongly criticising the Abrahamic religion / society / raison d'être, and the terror / sickness / fear it might cause. Also other mono-theistic religions get questioned, with Jehovah as source of inspiration for earthly destruction and human annihilation.
First this. I was not that 'happy' with the sound of Northern Ghosts. Patrick wanted to achieve the opposite of the clean sound by using an old seventies' mixing board and two microphones, all done within eight tracks (of audio). I do appreciate the intention, the idea, but the production was truly sad. Saga Of The Nationalist, on the contrary, differs, and I mean it positively. Still the sound is enormously raw and unpolished, anti-clinical in each aspect, but it is not such a clutter. On the contrary, this is the kind of aural satisfaction that does lift up the quality of the tracks even more! Besides, since this album, and then I am referring to the compositions themselves, focuses on the eighties / early nineties scene when it comes to the execution, such rough sound quality isn't but divine!
The song writing and performance are superb, but I am sure that isn't but an evidence. With Saga Of The Nationalist, Avitas proof to be able to handle with care. It not only goes for the variation, but it has to do with the organic elaboration. Opener Apathetic, for example, contains more than just coincidental elements from the Teutonic Thrash-Black scene, The Atavist comes with an attitude that could have been written for Desaster's Kult-album A Touch Of Medieval Darkness (undoubtedly one of my all-time favourite albums!); listen to those melodic leads and you'll understand. And that's how this album continues. In general The Saga Of The Nationalist is pretty fast, or at least enormously energetic and power-driven, and it's tasty-the-spicy-way when it comes to source of inspiration (the Old School indeed). But there are several slower parts as well (listen for example to the sublime bathorian epic Sonnenrad amongst others), and these pieces cause a quasi-perfect equilibrium on this album's intensity.