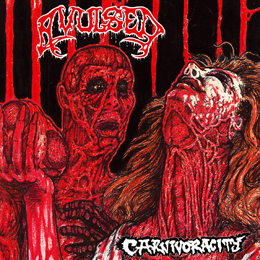 One of the most influential Death Metal bands from Spain is this one: Avulsed, formed more than two decades ago by David 'Rotten' Sanchez Gonzalez, owner of Xtreem Music (formerly Drowned Productions, then Repulse Records). After several demonstrational recordings (on tape back then; it was the pre-digital era that made traders like me sickly obsessed by the sweet sounds of grinding nastiness…) and a couple of splits, German underground label Malodorous Mangled Innards Records released the 7"EP Carnivoracity, which included material from the promotional tape done on cassette earlier that year; we're talking about June 1994 when it comes to the release of the vinyl edition. Repulse (run by David) did a first re-issue on CD in 1995, and now there is a re-mastered edition available via Xtreem Music (he, here's Dave once again…) on both CD and LP in order to celebrate the twentieth anniversary of this legendary EP's initial release. Once again it comes with bonus tracks, taken from a 1995-live session.
This stuff opens with the title track, which might be the longest track ever done by this Spanish horde, I think. And it is the most appropriate description on Avulsed's nasty material. Carnivoracity is a slimy, smelly, putrid form of primal, uncompromising and no-nonsense Death Metal with a grinding attitude (cf. the vocals!), with a massive rhythm section, and with a sound so morbid, rough and unpolished. Most interesting might be the unusual structural break in the middle of the song, which is both refreshing and magisterial. It's a pleasure to have this obscure song available on CD by means of this x'th re-issue! Cradle Of Bones is more what we're used of if referring to Avulsed, though it might be one of the most cumbersome things done by the band in the earliest years. And also the cover by Chilean cult-act Demoniac Possession comes with persuasion and craftsmanship, the way we do like this stuff!
The live tracks are taken from a gig the band did in May 1995 in the city of Granada (Andalusia, South of Spain). It shows the live performance qualities of Avulsed in their earlier years, and that is not bad, is it? And listen to the cover tracks Avulsed did (besides their own creations, of course) to notice this Spanish act's professionalism and persuasion (Demigod and Brujeria did pass the revue…)! Forget the sound quality, for there is no reason to expect a clean, professional, polished sonic result, evidently. But I think this is a very, very nice addition to strengthen the re-issue of the original 7"!
Enjoy!