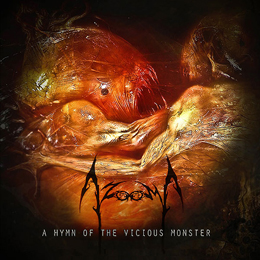 Album Title:
A Hymn Of The Vicious Monster
It is not the first time that I will review an album by a band or project from an 'unusual' country – think United Arab Emirates (Nervecell), Maldives (Sacred Legacy), Saudi-Arab (Al Namrood), Jordan (Relics Of Martyrs) or Iran (Margg). In my personal collection, by the way, there's more stuff from those countries, as well as the likes of Bangladesh, Kazakhstan, Kirgizia, Bahrein or Lebanon. When it comes to the last country mentioned in the I did a review before-list, well, here's another Iranian band, and it's a pretty 'old' one too.
Azooma started ten years ago in the North-Eastern city of Mashhad (together with Tehran the (Death) Metal capital of Iran), and includes members of e.g. Death Metal act Arsamer and Heavy / Doom combo Vaspooher. Despite their ten year of existence, and probably caused by the repressive (aka narrow-minded) attitude of Iran's government, Azooma had not have the chance to record and release something decent, but that did change right now. What's more, this four-piece have their A Hymn Of The Vicious Monster released via one of the most prevalent Extreme Metal labels, Spanish Xtreem Music, run by Christ Denied / Avulsed's Dave S. 'Rotten' Gonzalez.
With A Hymn Of The Vicious Monster, Azooma bring a very powerful and progressive form of (timeless) Death Metal. After a short intro (based on original-sounding acoustic and electric guitar leads), the album brings six pretty lengthy tracks that combine a brutal performance (1), technical skills (2), and melodic structures (3). Let's give some more information about those three aspects.
(1) The brutal performance, well… You don't hear such a heavy, fast-forward, merciless material that much lately (and you certainly wouldn't expect it from a band from a country like Iran, would you). The four main tracks A Hymn Of The Vicious Monster come with a taking-no-prisoners attitude, and they leave no room for rest or tranquillity. Important is to notice that this band never exaggerates in its execution of heaviness. An important element that attests this statement of power and invincibility is the vocal approach. The grunts are of the most deep and vigorous one can meet with.
(2) The technical skills are not renewing, but that, of course, is of no importance. The performance is what counts, and it truly is remarkable how organic and fluent these skills have been done. It goes for the rhythm section as well as for the leads; listen to the solo work, the progressive injections, or the dissonant structures (with many hooks and breaks, and a huge variety in tempo-changes).
(3) And still this band succeeds to maintain a melodic approach. There's no apocalyptic chaos within these tracks, yet a well-composed supremacy that holds the middle in between craftsmanship and experiment. In contrast to the progressive excerpts, the main rhythmic part supports nice melodic constructed pieces, and especially the lead riffs (as well as the solos) breathe a well-written melodious greatness.
On top of it, Azooma come with things that do distinguish their approach from the grey mass. It's not only the presence of many progressive parts that I am talking about. There's more to enjoy. There are some clean vocal choirs from time to time; there are the fierce leads; there are the additional influences from the Middle-East, and then I am referring to the exotic touches that appear once in a while (which isn't that uncommon for bands and projects from these latitudes).
The album ends with a short outro (à la the intro), including whispered-spoken vocals and tribal percussions. It's a perfect hedge to end this surprising album with.
The production is of a very satisfying quality, though I do not know where this stuff had been recorded. But every single player has its own clearly-aural presence; I mean that the vocals, lead and rhythm guitars, solos, bass lines and drums are equally important throughout the whole journey.
Think: Kataklysm, Hate Eternal, Gorguts, Carcass, Beneath The Massacre and the likes…