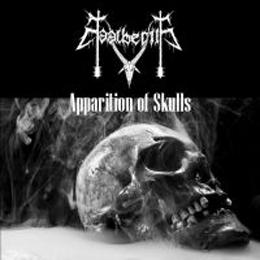 Release Date:
Monday, September 1, 2014
On the September 21st 2014-update, you can read the review I wrote for the Satanath split-album The Antichristian Symphonies, a five-way split with e.g. English act Baalberith. And now we can enjoy their fourth full length in eight years of existence.
I would like to refer to the review on the split for this band's history, and to the worldwide net for their huge discography.
This album was recorded by Jamie 'Razakel' (vocals and guitars), Valefar (drums) and Abaddon (guitars, bass and backing vocals), and the seven tracks have a total running time of thirty three minutes. It opens with Quest For Satan, which makes sure Baalberith will take no prisoners, they will make no compromises. Quest For Satan is an intense, mainly fast and nasty track with a traditional approach, yet not of the over-hyped Second Wave trend. It sounds rather mechanically-technical in its execution, with fierce and hammering rhythms and piercing leads. The bass lines are very pronounced, and that's something I do appreciate, but in fact this goes for all elements. Indeed, this track shows that the whole album has been produced and mixed with care, and attention for details. The track, by the way, ends with a fabulous solo, which stands miles away from the 'usual'. Great opener. Next track, Battle For The Blazing Dawn, brings very much the same. The unique trem leads and forceful rhythm section are splendidly balanced. Here too the lead solos are beyond normality, characterising this band as a unique one. I really cannot compare these excellent guitar solos to any other act; it is courtesy of Baalberith only. The vocals, by the way, are so grim, preaching misanthropy and hatred. The third composition, the title track, is more obscure and dense, and initially much slower too than we're used to. It's a masterpiece with nothing but superlatives to add. And this grandiose performance goes on for the whole album. Each piece on Apparition Of Skulls is a (modest) monument that spits on mediocrity and superficiality.
Despite being so harsh, this band maintains to create something unique, something original. Baalberith developed an own sound, which distinguishes them from the grey masses. Being 'different' however isn't enough, but since this band does it with persuasion, conviction and a professional craftsmanship, you cannot but appreciate this specific, typifying approach.
Oh yes, finally this. Apparition Of Skulls is the final album for the band in its current form. Baalberith did not really break up, but it will continue as a studio-only project by Razakel. And apparently the style will change too in the future, so let's see what comes next…