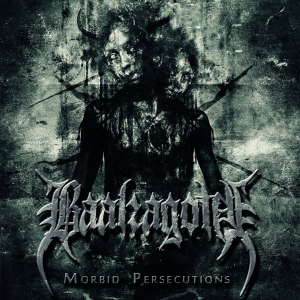 Short biography: formed in 2019, with an independently-released EP shortly after (including a Metallica-cover; and for what it's worth: it was / is a stunning EP, with an amazing reinterpretation of that original anthem).
Within the very same line-up, i.e. drummer Mikołaj 'Vultur' Stołecki, vocalist Oktawiusz 'Oktavius Hellhammer' Stołecki, bass player Mateusz 'Asmodeus' Ferensztejn, and guitarists Mateusz 'Maathi' Puklicki and Alexander 'Veles' Orbach, Baalzagoth entered the Heinrich House Studio in early 2021 with producer / engineer / master / mixer Filip Hałucha (known for his studio duties with acts like Behemoth, Veld or Saltus, besides his own Masachist or Vesania); he provided the samples too, by the way. The band signed to Poland's finest Mara Productions, resulting in both a digital release, as well as a physical one; the latter existing in different versions (slipcase, digipack and jewel-case), which includes stunning cover artwork by Khristenn Corpse vocalist Rotted Artist (one of the strongest upcoming visual artists lately).
Morbid Executions is the name of the game, divided into nine titles that clock almost thirty-nine minutes. And as from the intro Desolation, this quintet impressed: a firm, copious piece of extremely darkened Doom Epic, setting the intolerant tone for what's next to come.
And that 'next to come', well, do not expect mercy or forgiveness. Unholy War, the first 'real' track after the introduction, brings the core-business of Baalzagoth's raison d'être: playing intense, full-bodied, power-driven and dark-edged Death / Black / Dark Metal with a doomed atmosphere. The focus lies on a balanced interplay in between the melodious section and the rhythmic support (see further), joined by deeply-brutal voices and several solos. All this gets offered to the audience with inclusion of a mighty variety in speed and with a devastating, hard-hitting sound-quality.
When talking about the latter, the production and mix, well, this is just gargantuan. Morbid Persecutions sounds massively overwhelming, titanic as a wall-of-sound, which creates a dense, heavy-weighted, almost burdensome atmosphere. The whole of the time, maybe with exception of the few acoustic intermezzi, this album engulfs. But then again – and that is another positive element – it lacks of exaggerated over-production too. The whole carries a natural ability, without exaggeration, giving the whole that fundamentally-organized point of view. On top of it, one cannot ignore the well-done equilibrium of all voices and instruments.
Let's come back to the melodies and structures. Morbid Persecutions is strongly guitar-oriented. All tracks are built around multi-layered guitar riffage with a lot of tremolo and dueling riffs. Each hymn gets oriented out of a melodious position as basement, with those several layers of six-string play, both rhythmic and leading, time after time. Besides, it trespasses the limitations of strictly-demarcated scenes, for several riffs, sound-wise, breath a grim blackened mentality. That opening sequence in In Nomine…, for example,  exhales the eminence of the Nordic-styled scene with persuasion and grandeur.
The 'full' sound (besides the quality of the studio duties, like mentioned in the former paragraph) is courtesy of the rhythm section too, evidently. The rhythm guitars and basses are co-responsible for the harsh, overwhelming character of the compositions, like one all-devastating avalanche of sound. Besides, the whole percussion division by Vultur strengthens the thunderous attitude of the whole adventure: fast-hitting drum-salvos, down-earthed double bass-drums, combative cymbal-molestation and slowly-pounding slams, permanently interactive, continuously supportive within fading away in modesty or inferiority. Seriously, it is fantastic to notice that all 'ingredients' play their role to make the result sound so cohesive and massive at the very same time.
Which easily brings me to another 'detail' within this sonic journey: the harsh throat of Oktavius Hellhammer. In some way, he has a 'unique' growl, abyssal-deep and spitting sulfur and hatred. His timbre has an explicit old-schooled elegance, which fits perfectly to the timeless song-writing, of course. And that timelessness is important to understand, for it makes Baalzagoth exceed the restrictions of narrow-minded 'trends' within the (Death) Metal scene.
The very diverse tempo too fortifies that open-minded and immortal perspective. In a mostly smooth, organic way, blasting excerpts mingle with slow-paced chapters. But all of them, from doomy over mid-tempo to pyroclastic, withhold that colossal, monolithic strength, never fading away into piteous redundance.
Convincing debut! I hope these guys will not wait too long with writing and rehearsing new stuff!
https://maraproductions.bandcamp.com/album/morbid-persecutions
https://baalzagoth.bandcamp.com/album/morbid-persecutions
https://awakeninginthedark.pl/en_US/p/Baalzagoth-Morbid-Persecutions-%2C-DIGIPACK%2C-Death-Metal%2C-Poland-/971
https://awakeninginthedark.pl/en_US/p/Baalzagoth-Morbid-Persecutions-%2C-SLIPCASE%2C-Death-Metal%2C-Poland-/972
https://awakeninginthedark.pl/en_US/p/Baalzagoth-Morbid-Persecutions-%2C-JEWEL-CASE-%2C-Death-Metal%2C-Poland-/970
https://www.youtube.com/watch?v=nGynfGxCKoo
https://www.youtube.com/watch?v=0TAACvko2c0