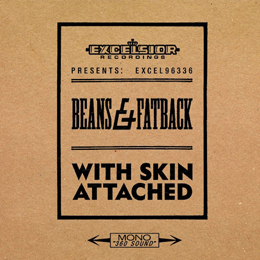 This band originated as a side-project of Raw Funk 'n' Soul Dutch act Lefties Soul Connection frontman Onno Smit (vocals & guitar) in 2008, when the latter came to this idea to record a solo album without having to spend too much money, by inviting befriended musicians to come and contribute to his recordings in exchange for a copious meal afterward.
Several people (among which Paul Willemsen of Supersub, Daniel Rose of C-Mon and Kypski, Laurens Joensen and Jet Stevens of Fay Lovsky, Cody Vogels of Lefties Soul Connection, and the street orchestra De Fanfare Van De Eerste Liefdesnacht) felt this was a great idea, and as such 11 tracks came into existence, with the participation of no less than 16 musicians. A couple of songs were audited to the people of Excelsior Records (whom had released LSC's first albums, 2006's Hutspot and 2007's Skimming The Scum), and they felt willing to release the album. As a bonus, the idea was uttered to add the used recipes for the meals in the booklet, but eventually the label opted to release the recipes in book form, adding the CD. Book and affixed CD were released on April 9, 2010. But what started as a project, soon turned into one of Holland's more energetic acts, as Smit put together a band composed of himself, guitarist Paul Willemsen, Hammond organist Jeroen Tenty, pianist/ percussionist/ backing singer Gerhardt, bassist Jet Stevens, drummer/ percussionist/ backing singer Toon Oomen, and drummer Cody Vogel.
Not having heard that first album, I'll have to rely on the band's own words (posted at their own website (www.) beansandfatback.nl), stating that on their new album, the band sounds even rougher, rawer, and more intense than ever. A further description has them mixing echos of the likes of Howlin' Wolf, Earl King and Link Wray with more contemporary influences from the likes of Dan Auerbach, Dr. John and Jack White. Might well be so...to me personally, the album sounds like a great Rhythm & Blues album with a varying mixture of the sounds of late '60s Soul, Rock 'n' Roll, and keyboard-driven guitar (great distortion feedback moments, etc) Pop of that era. Although the album certainly does not sound outdated or retro, the music brings one back to times when...when things were different (we don't wanna say 'when things were easier-going', because that is certainly not true, as every period in human history always has its own specific problems for "normal" people in their day-to-day lives!).
A somewhat wacky thing about the album, is that it is released in mono, as opposed to ruling standards of contemporary stereo music. For your audio introduction to the band, consult the band's own website, where you'll find links to explore the band's pages at facebook, YouTube and MySpace.