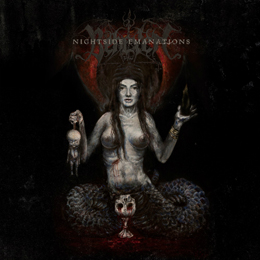 Release Date:
Friday, September 21, 2012
The huge scene from Suomi has bands / projects in between 'I can't stand at all' till 'hail and praise'. Behexen for sure do belong to the second category. I follow them since their debut Rituale Satanum (Sinister Figure, 1999/2000). In 2003, they released the album By The Blessing Of Satan (Woodcut Records) and in 2008 the third full length, My Soul For His Glory (through Hammer Of Hate), so there has always been quite some time in between each studio release (there was some compilation material during this period as well, i.e. 2004's From The Devil's Chalice, also through Finland's Woodcut).
Recently the band, with original members Hoath Torog (v) and Horns (d), and 'newer' members Wraath and Shatraug (indeed, the one-and-only Mister Shatraug!), joined Debemur Morti's roster, with Nightside Emanations as first result of this co-operation.
Again: raw, sometimes slow and then again enormously energetic, pounding, hammering but organic and transcending Black Metal with a pure underground-feeling, an unpolished yet decent production and a rather mystic, esoteric atmosphere, which is not that unusual within the Finnish scene, of course.
Compared to the past there aren't that much differences, but I am grabbed by the professional evolution in coherence and professionalism. Thrashing eruptions do make place for matured mysticism, yet without forgetting how it all started: uncompromising, blood-red and merciless.
This is trans-Scandinavian Luciferian Chainsaw-Black-Art drenched in sulphur and blood.