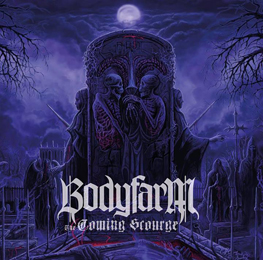 Release Date:
Friday, September 20, 2013
At the end of Summer 2009, drummer Quint Meerbeek (ex-Bloodphemy & Autumnal Reaper) and guitarist / vocalist Thomas Wouters formed Bodyfarm with the intention to pay tribute to the basics of pure Death Metal. In 2010 there was a self-called EP, followed by their Cyclone Empire-debut Malevolence (review updated on August 29th 2012 by undersigned). In mean time, the band also built a huge reputation as live act within the trans-European scene.
With the same line-up (Quint and Thomas, as well as bass player Mathieu Westerveld and guitarist Bram Hilhorst), Bodyfarm recorded the sophomore album, which was done by long-time friend and producer Harry van Breda (this time at the Bandbunker Studio). Mix and mastering were done at Garageland by Ronnie Björnström (think: Paganizer, Plactor, Aeon, Feral, Zombified etc.), and there are a couple of interesting guest performances: additional vocals provided by Once Begotten's Dirk Willems, and a solo (on Der Landkreuzer) by Stephan Gebédi (of Thanatos / Hail Of Bullets / Legion / …-fame).
For the better part, The Coming Scourge continues where Malevolence ended. Since I wasn't completely convinced by that former recording, due to a total lack of originality and a decent but non-overwhelming performance, I sort of feared this follow-up. And again there is a total absence of own-faced identity with The Coming Scourge. The main difference, however, is the enormously increased song writing and execution. Still the whole stands for uncompromising Trans-European pre-historical Death Metal, devastating and storming forward with the energy and power of a WWII-tank. But this time the whole fits. It is a collection of pounding and monolithic compositions with the right spirit (the will not to fail, and the aim to win the battle). It's a crushing expression of primal yet technically well-performed Death Metal from the Core.
Of course, and in the vein of the past, the material exhales the essence of Holland's Glory when it comes to powerful Rhythmic Death Metal (the Netherlands have always been one of the most important and influential countries when it comes to this form of ear-pleasing beauty), mixed (also again) with the core of the scenes from, let's say, the Americas, Sweden, Poland, Belgium and Germany. Cheerz!
With Eden's Destruction, by the way, the album also includes a short instrumental acoustic intermezzo, in case you do care. And the album ends with a more-than-acceptable self-interpreted version of Bathory's Enter The Eternal Fire (even though the original, evidently, is much, much better, yet then again we're talking about a track by KULT-act Bathory; but a nice effort anyway!)…
For fans of: Grind Minded, Hail Of Bullets, Gorefest, Bolt Thrower, Unleashed, Massacre, Vader, Paganizer etc.!