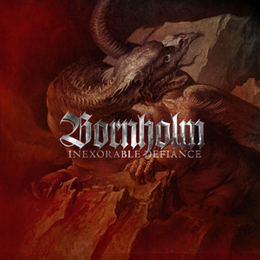 One of my favourite scenes, at least when it comes to Pagan / Viking / Epic-oriented Black Metal, is the East-European one, with countries like Romania and Hungary more specifically. When it comes to the first one, Romania, well, I guess I did pronounce my appreciation more than once in recent reviews for acts like Satanochio, Negura Bunget, Avatar or Syn Ze Sase Tri (check out the archives-section). And the Hungarian scene, well, it's so huge; dwelling into it, it would take too long - so let's refer to the review I did last year about a split-EP with Nydvind (from France) and Bornholm, a band formed more than a decade ago and proudly creator of two s-p-l-e-n-d-i-d full length, …On The Way Of The Hunting Moon and March For Glory And Revenge.
The four-piece did sign to NoiseArt in the long-forgotten year 2012, and this label will release the third full length, which lasts for fifty minutes. Multi-musician (music- and lyric-writer, vocalist and guitar player) Sahsnot started working on it in 2008, but he didn't want to hurry in order to focus on perfection. And again, Bornholm did reach a major level of perfection.
Bornholm are often labelled as 'the Hungarian Bathory' (cf. both former full lengths), and even I, as a huge Bathory-adept, can (partly) agree. This act too implements great bombastic, quasi-Wagnerian orchestrations throughout epic, warlike and overwhelmingly victorious melodies. But the whole sounds less 'primitive' or less 'underground' (beware: the production has nothing to do with über-clean sweetness, so the lack of 'underground'-reference stands miles away from clinical emptiness), so one can certainly not call this band another cheap Bathory-clone.
All tracks, without exception, breathe pride and glory in a most outbursting way, driven by symphonic keyboard melodies, firm rhythms, sulphuric voices and doomy melodies, including some fierce leads and solos, brave intros and tribal acoustics. Inexorable Defiance is timeless, yet it sounds ancient, honouring the basics, the fundaments of Epic Music in all aspects. The 'heirs of Bathory' is somewhat exaggerated, I guess (better candidates are legio; think Demonaz, Ereb Altor, Hunters Moon a.m.m.), but everyone who likes overpowering and dark-edged Epic Black Metal will appreciate this effort for sure. I do!