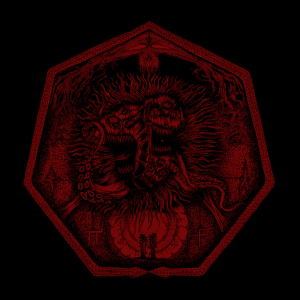 Album Title:
Abhabaniyastral Samsarimplication
Our dear friends from Brahmastrika return with a new EP, easily called Abhabaniyastral Samsarimplication (if you can spit this title out for five times without hesitating, I'll give you a well-deserved thumbs-up). Okay, we do not expect to have a new release with a simplistic title by this India-based act, seen their former one being called Excarnastrial Commencination (this demonstrational recording, by the way, has been re-released via the band's current label and might be reviewed too by undersigned in some near future). Yet still it is adorable to notice this slightly exaggerated moniker. I am about to add 'LOL'…
A very same frenzy thing goes for the three song-titles – I will come back to this immediately, as well as the accompanying information on the bio, which says that this recording is the consequence of ineliminable yogisolationary practices and meticulous exploitation of primal sanatana knowledge filtered through rashayanic paleo-enzymes, unfurled onto the synapsidal slavo-gynarchy. Palindromic primordial manifestations, exponentially multiplicative kama-tantras and eschatological hadean enlightenment is concentrated, culminated and adulterated is inscribed through autonomous oscillations and cyclic dev-monic acharita resolute to nauseate the frail and fragile but, entice the superior in the perpetual quest to administer the shashbhyatatvyic mastery Vishvabhuta. Evident and clear, isn't it?!
Of course this tantric and Buddhist-inspired concept can easily be related to this band's origins, being the city of Kolkata. But do not expect any form of meditative relaxation sounds, for Brahmastrika are not that peaceful and tolerant. These three pisses, sorry, pieces, stand for some purely chao-apocalyptic mixture of Death and Black Metal, Noise, Grindcore and Boogie-Woogie; nope, the latter isn't true (you wished). Take the first track, for example, sweetly known as Agniprabahik Raktagurgitation (and with its length of 3:46 the shortest elegy on this EP), starting in a mostly filthy Doom / Death / Black manner à la Archgoat, Impiety or Impaled Nazarene. Soon the whole gets brutally raped by grinding violence, blasting like a pyroclastic outburst, thundering like an avalanche of castle walls, bulldozers and pieces of a destroyed Heaven. Because of the loud and noisy sound quality, clean air gets transmorphed into asphyxiating fog. Breath it in, take a deep breath…
The second track is a lengthy one, clocking almost thirteen minutes. That's a skull-crushing, sadistic, and at the same time masochistic, experience for sure, trying to survive thirteen minutes gathered as Matragarbhikmulvapurnaugrabidhrahayagya. But what a hidden beauty it is. It somehow starts in a comparable vein (a drug-induced vein) compared to the opening 'song', with an extortionate wall of noise, created through morbid string-molestation, perverted drum-destruction and heinous growls from the sulphur-stinking pit of the Purgatory dimension. After three minutes and something, things seem to fade away, but even-though the grinding excesses seem to disappear, things will strengthen the suffocative finesse. A repetitive yet ultimately claustrophobic chapter covers the listening experience in paralyzing yet deeply-sickening hypnosis. It's an electronic repetition, smoothly overwhelming, added by frenzy sounds at the background, and eventually turning into another sequence of ear-grinding disorder. Another wretched collage of violent guitars, bestial grunts and rabid drums accompanies the listener through the most putrid realms of mental disturbance, sardonically injected with short passages of industrialized sonic wastelands.
Regolithic Pranamonitions (6:46) is the doomiest piece on this mini-album, yet please do not expect grace or loveliness despite some slower excerpts. Definitions like 'monumental', 'monolithic' or 'a 100,000 kilo heavy asteroid crushing the Vatican' aren't even convincing enough to describe this intoxicating track. Besides, it has a couple of fragments with dynamic percussions, energetic traditional-inspired parts of mesmerizing astonishment, going well with the droning guitars and psychedelic additions from different sources.
Imagine a mixture of Gnaw Their Tongues, Deiphago, Archgoat, Black Earth, Goatblood, Impaled Nazarene, Abruptum, Tetragrammacide, Massemord (the Norwegian one), Zarach 'Baal' Tharagh and Teitanblood (I can go on, but you can imagine what morbidity and f*cked-up attitude I am referring to), and still you might have no clue what this is all about.
Abhabaniyastral Samsarimplication is available via digital sources, of course, as well as on compact disc (being a jewel-case edition with a four-page booklet) and on vinyl; the latter being printed in three different formats / colours: black, white and splatter vinyl (with poster). It comes with truly intriguing cover artwork by Adim Ashtakam Art, and the layout was taken care of by Qavin Mandala Graphex.
https://dunkelheitprod.bandcamp.com/album/abhabaniyastral-samsarimplication
https://www.dunkelheit-produktionen.de/presta/nl/dunkelheit-releases/5726-brahmastrika-abhabaniyastral-samsarimplication-poster-ind-cd-dunkelheit-releases-dunkelheit-produktionen-0662425108299.html
https://www.dunkelheit-produktionen.de/presta/nl/dunkelheit-releases/5711-brahmastrika-abhabaniyastral-samsarimplication-poster-black-edt-ind-lp-dunkelheit-releases-dunkelheit-produktionen-0662425108084.html
https://www.dunkelheit-produktionen.de/presta/nl/dunkelheit-releases/5713-brahmastrika-abhabaniyastral-samsarimplication-poster-splatter-edt-ind-lp-dunkelheit-releases-dunkelheit-produktionen-0662425108084.html
https://www.dunkelheit-produktionen.de/presta/nl/dunkelheit-releases/5712-brahmastrika-abhabaniyastral-samsarimplication-poster-white-edt-ind-lp-dunkelheit-releases-dunkelheit-produktionen-0662425108084.html