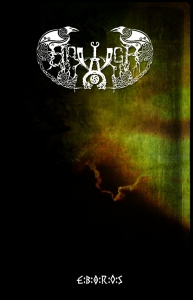 Release Date:
Wednesday, September 9, 2015
One of the most productive Spanish (Black) Metal artists for sure is Javier 'Erun' Sixto, (formerly or currently) active under the banner of e.g. Hrizg (review for 2011's Anthems Of Decrepitude updated on July 17th 2011, available within this site's Archive-section; and you can find the one for 2014's Individualism on the upload of October 8th 2014), Stormstone (July 8th 2015 for Heirs Of All Fights), Deprive (album Into Oblivion posted on April 24th 2015), CrystalMoors, Ancienthorn and many, many more. Quite a productive solo-outfit too is Briargh, which Erun started more than a decade ago. It's been a while that there was a new full length (the last one, Krigas, was released in 2010), but in mean time there were quite some split contributions with the likes of Heilnoz, Aasgard, Xerión, Sentimen Beltza and Doom Of Valyria. This new full length (the third) was written and recorded over a period of more than two years (as from 2013) in the guy's own Khazad-Dûm Studio (yes, besides all his projects, he has its own studio as well, working for other bands / projects like BittenCross, 13th Embodiment, Chains Ov Beleth (I did upload the review for new album Christeos Chaos on December 24th 2015), Gathering Darkness, Opposer, besides his own outfits), and it lasts for thirty seven minutes. The CD-edition for Eboros was released in early September 2015 on Poland's Lower Silesian Stronghold (this isn't the first collaboration in between Erun and the label), while the tape-edition did follow at the end of October via Erun's own label Morbid Shrine Productions.
Anyway, Eboros brings that kind of stuff that does not do badly at all on Lower Silesian Stronghold's (fabulous) roster. The album collects eight pieces of rather traditional and melodic, yet highly epic Pagan-laden Black Metal in the vein of the glorious nineties. There is quite some variation, going for both speed (a couple of pieces are even of the lightning energetics) as well as song structure. With the latter I am referring to the different approaches: sometimes brutal and aggressive, then again epic and victorious (read: war-like), sometimes rather melancholic (once again of the fierce, pride kind, instead of the desperate approach), or at least pretending to be filled with the majesty of glory… And with the variety in tempo I need to add the remarkable coherence for all efforts, for it goes well with the different 'attitudes'. Some slower parts focus on march-towards-victory, while faster ones deal with the post-war glory, but in each case Briargh's strength remains the same: creating an uncompromising and merciless definition of Pagan / War Black Metal. Besides, pieces like El Canto De Las Anjanas II (what a nice synth-laden outroduction!) or, especially, Sword Of Woe go even deeper into the subject, penetrating the whole concept with elements taken from the glory days of Bathory (though the likes of Falkenbach, Desaster, Kampfar, Nargaroth, Avitas, Raventale etc. might come to mind as well, evidently – KRIEG, you see…). Yet, this album might focus little more on heaviness, power and vengeance, and little less on folkish tradition (cf. the instrumental execution, compared to the former release) (and undersigned certainly does not dislike this trend).