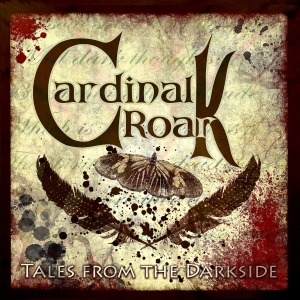 Cardinal Roark are a pretty young band from Québec, Canada. The band was formed in 2015 by Dominic 'DooM' St-Laurent to play some stuff he had in mind, yet which did not fit in one of the other bands he is involved with (c.f. Succubus Irons, Doom's Day and Wrath Of Echoes). Soon after, DooM (guitars, drums, clean vocals, compositions and artwork) was joined by bassist Ge (DooM's colleague in Succubus Irons) and chanteur Winterthrone (of Endless Horizon, Hak-Ed Damm and Dépérir-fame). The trio started recording some of the material DooM had written in the meantime, and this at the Four n' Half Sound Lab studio. The recorded tracks were mixed and mastered in 2017 at the Stinky Weasel Studio with David Lizotte (he did some more studio work for bands like Southern Cross (in which he is the vocalist / guitarist), Saccage, Epiphany From The Abyss, Warning Sign and more). And when Cardinal Roark signed to Canadian Metal-label PRC Music, they were able to release their debut full length studio album Tales From The Darkside.
The album has a digital downloadable (or streaming) version, and it appears on compact disc too. The latter was pressed in an edition of 500 copies. Tales From The Darkside consists of eight tracks, which have a total running time of twenty-nine minutes. The main lyrics, by the way, are taken from one of the greatest authors from last century, Mr. Edgar Allan Poe – which in consequence also declares the album's title …
What strikes me is the diversity, the variation on this album. Tales From The Darkside is Heavy Metal, Thrash Metal, Death Metal, Black Metal, Speed Metal, Metal in all aspects. Excellent is the timeless approach, for this is old school with a modern touch, and the universal approach, for this stuff could have been created as well in South-America, Scandinavia, Japan, West-Europe, or wherever. Cool yet important element…
The better part is based on energetic rhythms with powerful string lines, hammering drum patterns, and a lot of leading guitars. The latter, those guitars, are like the spine of each piece, intensively supported by pushing rhythm guitars and basses and those pounding drums, and injected by fierce melodic solos – in Piste 5, for example, the dual soloing reminds of Iron Maiden, to give you an example of this band's approach. This too is so independent from any narrow-minded limitation whatsoever. Also vocal-wise, there is more than 'just a leading voice'. The main vocals are little yelling screams, which remind me of the old styled Teutonic bands (though even more intense and dirty), but there is more to experience: clean vocals, harmony chants, spoken words, dead grunts and so on).
In general, this stuff is intense, rock 'n' rolling, dynamic and speed-up, and it makes the listener's head bang the whole of the time. The energy is convincing and catching, and permanently level-headed in execution and atmosphere. The latter actually, that atmosphere, is not as abyssal-obscure as I initially expected, especially considering the E.A. Poe's influence (at lyrical side), yet still it maintains a darkening, mystic atmosphere. Besides, Tales From The Darkside come up with some contradictious intermezzi, acting like a counterbalance to the heaviness, or as 'glue' in between the main chapters (like Piste 7, for instance; this piece, for your information, contains guest keyboards by Wrath Of Echoes colleague David Habon).
Oh yes, even though I do not totally agree just like that, I can see why; the promo-information speaks of a band influenced by Carcass, Satyricon and Tribulation, and this might give you a clue.