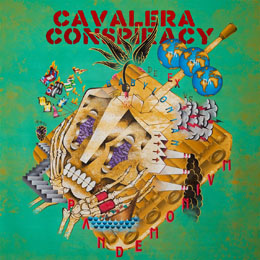 Release Date:
Tuesday, November 4, 2014
The Cavalera brothers Max and Igor delude nobody when it comes to determination and stubbornness. In the 1990s the Brazilians brought up some of the most uncompromising Metal records of music history with Sepultura and show with Cavalera Conspiracy that fatigue is a foreign word f. These lads from Brazil, French and the USA play these awesome mix between death- and trash metal. Their op coming with their 3th studio album, which is called 'Pandemonium (2014)' An invigorating mixture of the speed and aggression of Slayer, the urgency and willpower of seminal hardcore like Minor Threat and the heaviness and musical prowess of Cavalera Conspiracy's Inflikted debut, 'Blunt Force Trauma (2011)' is eleven tracks of intense, powerful and jarringly immediate metal with punk attitude and venomous spirit. 
Fans who know Max and Igor Cavalera know what kind of work they deliver wen there getting together in the recording studio again. This album truly is an amazing, aggressive and totally a Cavalera worthy album. It contains all the elements a good trash-metal album needs. The song Porra contains a big influence from the Brazilian roots the band has. You can hear these typical Brazilian sounds in the referendum of the song.
From my opinion this band has way more much to offer to the metal community. Max Cavalera is busy touring around the world with Soulfly and now has must also tour with Cavalera Conspiracy. During an interview for Loudwire he mentioned that he doesn't has many times to spend with his family. But hey, this is an all kwon fact when your father/husband is a great rockstar. This is what he does the feed himself and his family. I think he's doing this very, damn well. Keep on rocking in the free world people.