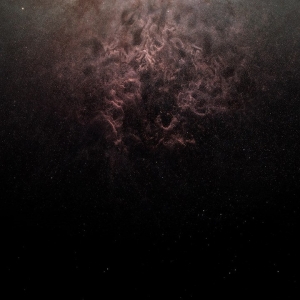 Release Date:
Friday, November 27, 2015
One year after the debut, French duo Cepheide (Gaetan and Thomas) returned with a new album, which consists of two (extremely) lengthy tracks: seventeen and nineteen minutes respectively. The sophomore album was an independently released digital record (July 2015), which was followed in September 2015 in cassette-edition. And now we can enjoy the CD-version too, which has been made available at the very end of November 2015 by Ogmios Underground. The lay-out is quite sober, and so is the information, but this might strengthen the mystic philosophies behind this project.
The first track is called Le Souffle Brûlant De L'Immaculé (15:55). And as from the opening riff, being intensively droning and hypnotic, it gets my full attention. Slowly and softly additional layers of guitar and synth enter, remaining within the very same mesmerizing repetition. At two minutes, drums join in, and the slowness of those percussions sort of spice the whole with a sludgy attitude. When somewhat later the tempo rises, and the hysterical and hollow screams enter, we're totally off for a ride. A nasty, unstoppable ride towards the deepest pits of the underground…
Despite the repetition of the composition, there is quite some 'body' that avoids boredom. The well-thought structures, although ingeniously hidden, offer a permanent arousal, cf. the grandiose multi-layered melody lines and the organic interaction in between intensity and energy at the one hand, and the massive majesty of the slower passages at the other. And despite the harshness, there for sure is an elegance of intrinsic moodiness too.
With an eerie Ambient / Drone excerpt, the second track, La Chute D'Une Ombre (19:03), gets introduced, evolving towards dreamlike spheres of cinematic soundwavery – quite unusual, quite uncomfortable, highly unique! At seven minutes everything slowly transforms after guitars and cymbals join, and then everything explodes. The mid-piece of the track is a colossal, fast-paced attack, retaining a sludgy undertone, and lacking to forget to focus on an asphyxiating atmosphere and the dense execution. It slows down after a while, and there are even sonic experiments going on. The second half indeed sounds like a continuously menacing scuffle in between intoxicating ambience and thundering war propaganda.
The sound quality is quite enjoyable, although I think that the final mix could have strengthen the massiveness if little better balanced. But in any case the rawness of the production empowers the gargantuan wall of sound that characterises this fine recording! This is French quality within the very same qualitative top-level of many Distant Voices or Les Acteurs De L'Ombre acts…