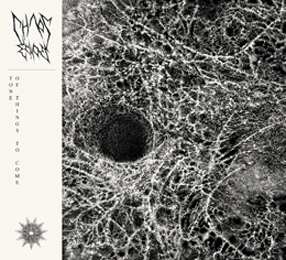 Release Date:
Tuesday, November 20, 2012
Somewhere in 2011, when Death Metal act Bloody Sign from France went on hiatus, two members, the Uibo-brothers Kalevi and Ilmar (originating from Finland, if I'm not mistaken), decided to form a new band (both of them were / are active in several other bands and projects as well, like Chaos Echoes Duo Experience, which can be considered the creepy Apocalypse-Death-Ambient side-project of Chaos Echoes - FYI).
With assistance of some other sickos / psychos, Chaos Echoes recorded their debut album Tone Of Things To Come, which got mixed and mastered in late Spring 2012 at Temple Of Disharmony with Impending Doom's Patrick W. Engel (who did some productional work for bands like Misery Speaks, Heaven Shall Burn, Ascension, Soulgate's Dawn or Katharsis).
Tone Of Things To Come is one of the most extreme, no-nonsense albums I've heard in quite a long time. Tone Of Thing To Come is a hallucinogenic trip, an ecstatic trance, absorbing creepiness, obscurity and disharmony, crossing borders, trespassing unlimited boundaries, inducing ugliness and filth, nebulized by processes of delusion and mesmerism. An experience of pain and pleasure it is…
Apocalyptic Sludge / Drone / Doom, post-metallic incantations, sepulchral Black Noise, inhuman Art from beyond the abyss, eerie improvisations of totalitarian warlust, free-style Death Ambient, drenched in industrialised acid and nuclear clouds; hail to these Echoes of Chaos!