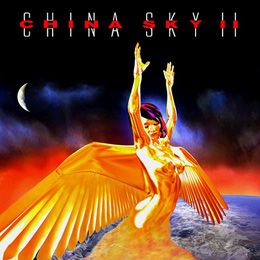 25 years ago, a band from Jacksonville – Florida released their debut album, an album that was highly praised, and whose first single was immediately picked up by some radio stations over the US and Canada.
Sad, but true, the story of this band that could have become big, soon ended.  Some of the members staid in the music business, like their guitarist Bobby Ingram, who joined Molly Hatchet, and singer Ron Perry, who recorded and toured with his band The Ron Perry Connection.
However one way or another some people still seemed interested in this band, and after a while original vocalist Ron Perry together with bass player Richard Smith wanted to blow new life into their old band, and see how the world would react. They enlisted the help of Bruce Crump, who was the drummer of Molly Hatchet, found a new guitarist in Steve Wheeler, and finally Tim McGowan on keyboards.
Being a big Axe fan, I found the sound of China Sky very akin to Axe, but with more emphasis on the keyboards.  It sounds very eighties, almost stadium rock like.  I immediately liked this album from start to finish.  No overpolished production, good songs, good musicians, to sum it up straight, honest rock music.
Highly recommended !  Thank you Escape Music for giving these guys the chance to show the world that they had it in them to become a big band, had circumstances been better;  I can't wait till their next album comes out – let's hope it doesn't take the another 25 years.