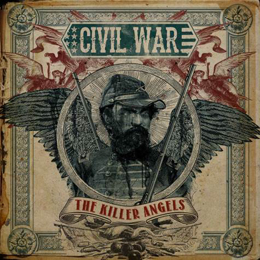 Power metal band Civil War, with four out of six members being ex-Sabaton, released their debut album, The Killer Angels. It should come as no surprise that the sound is very similar to the one of Sabaton, although Civil War sounds a bit more aggressive.
The full-length is all about powerful singing over bombastic drumming and speedy, melodic, glorious riffing with epic keyboard and lead guitar work. The band has put in some aggressive, head-bang friendly riffs which does differentiate them from their former band as well as the fact that the vocal timbre is totally different, weaving in perfectly between all the other instruments without overpowering them. The themes of The Killer Angels are based on actual historic examples of war, injustice and revolution.
Fans of exorbitant power metal with a war theme won't be disappointed. The Killer Angels is an uplifting album with an energetic guitar tone overloaded with catchy hooks. Fans of Sabaton will undoubtedly like this record, this is certainly one hell of a debut.