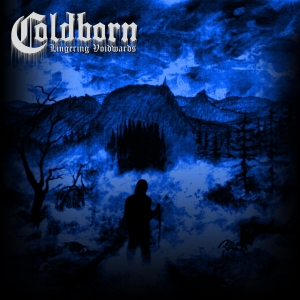 Release Date:
Thursday, December 1, 2016
Even though this recording was released two and a half years ago, yet seen that I do not give a f*ck about writing about new or old stuff, I have the politeness and goodwill to focus on Lingering Voidwards right now. This material is really worth (my) attention; ere wie ere toekomt!
Coldborn is a project created in 2007 by Norgaath, who is or was involved (as permanent or session member) in some of Belgium's finest acts, such as Enthroned, Nightbringer (though this is an American act, actually), Wapenspraak & Drinkgelag, Grimfaug, Gotmoor, Paragon Impure and many more. Coldborn was (is) an output for the many ideas he had, but that did not fit to the bands he was part of. However, throughout all these years, Norgaath did not release anything 'decent' under the Coldborn moniker. Eventually, five compositions were gathered under the Lingering Voidwards banner. The result, which clocks forty-seven minutes, was released by an unknown (and mysterious, yet with a very intriguing logo) label, Final Sacrifice Records. I have no idea whether it's Norgaath's own label or not; yet then again, that is of lesser importance.
Norgaath wrote (music and lyrics) and recorded (vocals, lead and rhythm guitars, basses, keyboards) these five pieces over a period of several years, with exception of the drums, which were recorded by his Enthroned / Nightbringer colleague Menthor (also in e.g. Voz De Nenhum, Necrosadist, Corpus Christii and many more). The result was mixed by another (former) Enthroned member, Jeremie 'Phorgath' Bezier, and mastered by Phorgath and Ivan Houben at the Brussels based Blackout Studio.
Oh yes, before going deeper into the sonic side, a word about the visual one. The cover artwork is created by Misanthropic Art Illustrations (the layout done by Norgaath himself), and it's quite a sober, mono-coloured painting that reveals mysticism, mystery and spirituality. And hey, doesn't that fit perfectly to the aural side of the story? Indeed, it does!
Lingering Voidwards starts opens with The Call Of Death's Clarion (almost thirteen minutes of length), which starts in an enormous ominous, oppressive and obscure manner. This introduction brings some haunting mixture of Dark Drone and Dark Ambient with a touch of occult and sinister depth. Then, after about two minutes, things turn nastier when strings and drums join. Quite slow-paced, this asphyxiating composition shows a dissonant approach of Doom-Black majesty for a while, returning into another ambient excerpt, before exploding into a soundtrack for the Horned One.  And that's exactly what makes the 'spine' of this album: the majestic glory of timeless and universal Underground Black Metal.
The 'basics' of the Black Metal core refer to the Nineties for sure, when the so-called Second Wave conquered / covered our sick planet with nuclear fires and apocalyptic propaganda. The execution is both melodic and rhythmic, with a lot of variation in structure, melody and tempo. The latter, the tempo, permanently balances in between slow and fast (ha, that was an easy one to describe) – no, I mean that doomy excerpts interact with energetic ones and everything in between, including several blasting outbursts, as well as funereally slow decelerations. But that isn't but the 'basic structure', as said. …for there is so much more.
Another remarkable element is the variation in 'style'. Yes, this material for sure represents 'old styled Black Metal', as mentioned before, in its purest form. But some parts are, for example, purely Thrash-edged, others are bombastic, then again flirting with the essence of Atmospheric Black Metal or finding inspiration within the roots of the Nordic-styled current (cf. the fierce and blasting opening riffs of In The Absence Of Light, Death Gazes, which could have been written in Norway for the mighty Grieghallen glory from twenty - twenty-five years ago). A lot, but then I do mean 'a lot of a lot', is to discover, and uncover, for the diversity is huge. But the best thing is: it's correct! Despite such variation, the whole experience sounds so organically correct - it's the opposite of some collage of different things simplistically glued together.
Besides the 'traditional' instrumentation (vocals, drums, basses and electric guitars), Coldborn make use of many keyboards. Often they do play a leading role, then again they are used as background, supporting and / or strengthening the lead instrumentation from the moment. Also acoustic and semi-acoustic chapters are involved, once again naturally fitting to the whole structure of this album. I would refer, for example, to the last sequence of the opening track to get a glimpse of the unique combination of electric and acoustic instruments, percussion and spherical, almost symphonic synth melodies. In Solitude even has a short piano-based interlude.
Another striking detail (though I have to apologize, for the word 'detail' sounds way too inferior) is the vocal contribution. The main vocals, by Norgaath, are raspy, grim and filled with disgust and hatred. I think they are of an extremely high quality. But there are more vocal elements: deeper growls, wretched screams, ghastly sighs, throaty grunts, mesmerizing chants (cf. the title track, which is a pure definition of aural hypnosis; what a fabulous drum patterns, what a great gloomy leads and fine burzumesque riffs, and so on…), and the remarkable guest contributions of Andreas 'A. Krieg' Hoffmann (known from e.g. Anti, Eternity, Lugubre, Corpus Christii or Darkmoon Warrior) and Alexandre 'Nocturnus Horrendus' Mota (think: Corpus Christii, Morte Incandescente, A Tree Of Signs and Genocide Kommando, amongst many others).
I referred to the legendary Grieghallen Studio in a former paragraph. Well, this brings me quite easily to my interpretation of the sound quality. The production indeed reminds me a lot of Pytten's glory days, with a grimness, a rawness, so unpolished and rough, yet oh so to the point. Listen to the last track, for example, called Withered, and teleport to the city of Bergen…) Despite the lack of a clinical production, the result is beyond expectation, for there are no irritating background noises or sonic failures within the final production. Besides, the mix is so well balanced, giving eye for detail for every single instrument (vocals included) involved.
I don't do 'end year's lists', but if I had to make one for 2016, this one would end up high for sure! Hope is a mental state of mind that defines psychic weakness, but I do hope that Norgaath will come up with some new Coldborn material soon!
And now I'll put an end on this review, for I am going to give this album another listen - so just leave me alone for another three quarters of an hour!