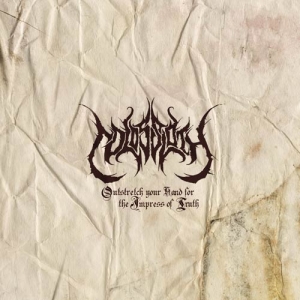 Album Title:
Outstretch Your Hand For The Impress Of Truth
Release Date:
Thursday, January 7, 2016
Hailing from Leicestershire, Colossloth were formed a decade ago. It took three years before… No, actually, it has always taken several years in between each recording, and now we're counting back to 2012, when Butterflies Are Witches was released. But don't worry, because Cold Spring Records are now to release the newest Colossloth-album, entitled Outstretch Your Hand For The Impress Of Truth. It was written by Wooly Woolaston and, evidently (we're talking about British label Cold Spring), it got mastered by Martin Bowes at the Cage Studio (Skullflower, Khost, Troum, Z'EV, Iron Fist Of The Sun, Sol and many more).
It is quite difficult to give a directive opinion about this project's Aural Art. Colossloth are like a creepy amalgam of elements from Cosmic Noise, Death Industrial, Musique Concrète, Power Drone, Black Ambient and Harsh Electronics, injected with many samples and loops, doomy drones, as well as the weirdest string arrangements and piano melodies. They do not create such lengthy pieces, yet each single one is quite varying, and I mean this the mostly disturbing way. Floating, almost integer excerpts interact with electronic ambience, industrialised noises, witching occultism, discordant chapters, mechanical sound collages, and apocalyptic rituals. The dissonance defines Colossloth's criticism on humanity and our daily structures, as I do understand it, and this through their powerful expression of sonic excellence.
I think it is quite a struggle to get through this kind of audible weirdness; even after three listens I am still confused, searching for the elementary basics of this recording. I have to be honest that I was not trusted with this project, so I can't compare to the past, but at the same time it might repel and attract. I do feel quite some sarcasm and irony at the one hand, as well as convinced malignancy and misanthropy at the other, and my intuition tells me I am right in both cases. So be open-minded when experiencing this extravagant journey.