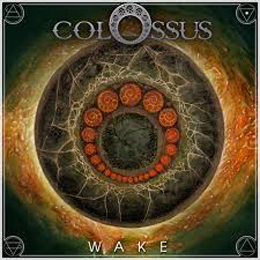 Wow...Colossus, eh? Do not confuse for any of three bands by that name from the USA (a Stoner/ heavy Metal act from Vicksburg, Mississippi; a Heavy Metal outfit from Raleigh, North-Carolina; and a Progressive/ Death Metal band from Kansas City, Missouri – both latter bands are still active, the status of the first is uncertain), one from France (a still active Deathcore band), one from India (a Heavy/ Thrash Metal act whose activity status is uncertain), or that other band by that name from Sweden, which included ex-Candlemass and ex-Memento Mori (he'd left that band for the first time then) singer Messiah Marcolin (which soon folded after its 1996 formation, by the way!
Nah...this Colossus is the Stockholm based Progressive Stoner/ Sludge Metal trio originated in 2008 by singer/ guitarist Niklas Eriksson and drummer Thomas Norstedt who, in succession went through bassists Jonathan Näslund (2009-2011) and David Axman (2011), before (at least temporarily) settling on Magnus Stenvinkel (whom once played in the Doom Metal band Endless Dawn, which left us with only the one 1992 demo Hymns From Below) in 2012. The band let itself be heard of to the world at large for the first time through the 2010 3-track demo The Mechanical Engineering Of Living Machines, which it followed up by the 3-track EP Spiritual Myiasis, released on June 9, 2011. This release was well-received, and convinced the band to hone their skills even more for a full-length recording, to the end of which they entered Gothenburg's Top Floor Studios with engineer/ producer Jakob Herrmann. Mixed by the famed Pontus Norgren, the album has guest appearances by Entombed's Lars G. Petrov (additional vocals on the song "Pillars Of Perennity") and drummer Morgan Ägren (known from his part contributions to Frank Zappa and Fredrik Thordendal amongst others, and current member of Mats/ Morgan Band – PS. : no info was released as to which song(s) hé contributed to).
To describe the band's music, I decided to use the opening of the info sheet I was sent along with the promo copy of the album (with some minor changes for the text to comply to ConcreteWeb standards) : "True to their name, this powerful trio performs a headstrong, burly Metal with roots deep in the impenetrable mire of the Stoner/ Doom/ Sludge tradition nuanced with streaks of Progressive Rock and Psychedelica. A wide blend of influences are entwined and results in an accomplished and coherent music that is as direct and powerful as it is multi-layered and meandering. Names that are commonly mentioned in relation to Colossus are Mastodon, Neurosis, Kyuss and Tool to name a few."! Sounds great, but does the outcome on the album agree with that "statement"?
I would say, not quite! I mean, quite possible that in the past the band indeed had more of those heavy Sludge moments, also very possible that on stage, the songs on the full-length will come over far more heavy, but as things are, there's less heaviness overall, in favour for a more Rock (with all its Psychedelic and Progressive leanings, you know) oriented Metal sound. Doesn't really matter much, as the material is just great! Nice compositions with a good feel for tempo changes and breaks, but always with some repetitive mood as well. On top, you get the perhaps slightly unilateral vocal stylings of the lead singer, whom ever so occasionally finds himself backed very harmoniously, and occasionally some effects are effected (like the slight delay during "Cloudhead"), or the vocals become Spoken Word-ish (same song). Which works alright in móst of the songs, except for the album closing "Fungle Gardens", an 11-minute affair, which would've been better cut off at the length of the other songs. I mean, in this case some 3 minutes off would've sufficed...I, personally, would've stopped the song after the third repeat of that verse "Oh great wind, give me the wings, to soar once again. And oh, take me with you, carry me up high, rejoice as I ascend", playing the underneath music just one more time to make for a rounded finish. It would've ended the songs at just a little more than 8 minutes. In stead, the verse is repeated (at the very end only in part) another 7 times...which makes the ending of the album so lóóóooong-winded (no pun intended, with the lyrical content of that verse in mind)... Nah, that's a small mistake which will cost the band points in my final assessment of the album!
To get acquainted with some of the better tracks on the album, surf to (www.) colossus.se, where you'll find links to the album's/ band's page on iTunes, Amazon, Sound Pollution, facebook, Ginza.se, Coon.com,  and are allowed to listen to the songs "Pillars Of Perennity"(released as single as a foretaste to the album) and "Traitors Gate". At the band's facebook page, you'll additionally find full-length versions of "Parasite", "The Gnawing" and "Eternal Return", but those are actually the tracks off the band's official debut-EP. Of course, for short samples of àll songs, check the album's page at the aforementioned online sales sites!
P.S. : Something funny happened : having made this review late in the evening, I found myself unable to fall asleep during the night, that ending of "Fungle Gardens" continuing to haunt through my mind...and I could not get the melody out of my mind during the rest of the next day either!