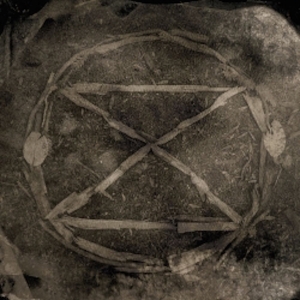 Art in its most virginal definition compiles more than lyrical, aural or visual creation. It's the totality of artistic aspects that characterizes the deep essence of Art. When open-minded experimentalists join forces, the result can be quite global. Such an example is Common Eider, King Eider, an American collective that creates music especially, but books too, for example. Because this review deals with the Cold Spring Records release Extinction, I won't go too deep into the 'written' subject, but it might be interesting to know that Common Eider, King Eider recently came out with a handmade and hand-bound book with inclusion of a digital sonic present / presence, Unhuulda; I suggest to check out the band's Bandcamp-page.
Anyway, this project from the Pacific coast consists of quite experienced members, including Rob Fisk and George Chen of 7 Year Rabbit Cycle. Their newest soundtrack, Extinction, once again reminds us to the contradiction of the human nature versus Mother Nature. The eeriness and grimness in the sound and song structures say everything. The four compositions last in between eight and thirteen minutes (total running time: almost forty-two minutes), and there is both a CD-version as well as a cassette-edition, via Cold Spring and Sol Y Nieve respectively.
Extinction opens with the title track (11:27), which starts quite nihilistic, empty, distant and absent. It takes more than a minute before you get a first glimpse, then it slowly evolves further on, but as from minute three on… Quiet and even sleepy waves of hidden mist (I feel poetic right now) suddenly explode into utterly massive drones of deepest and darkest bombast. Long-stretched post-oriented guitar rumbles and expressive drum patterns take over the initial quietude, sludgy and hammering, in order to explore (or explode) forbidden ceremonial rituals, filled with a mesmerizing, even suffocating energy. After almost five minutes of this colossal outburst, everything turns slow and integer once again, but it does not mean 'inner peace', for the atmosphere, despite a calm sonic approach, remains quite eerie and ghostly. The second composition is the shortest one, lasting for just eight minutes. Black Bough differs in essence, for it is initially based on haunting and desperate Ambient soundwaves with aural hints of horrific rituals; somewhat comparable to an unholy mixture of very early Raison d'Être (I refer to the ominous aspects of the Prospectus I era) and the most asphyxiating passages of Aghast's Hexerei Im Zwielicht Der Finsternis. But here too this un-calm calmth (yes, an 'oink' might be appropriate) drastically transforms after three minutes, turning towards smouldering pits of both mantras and stench (quite a contrast, but you'll find out why if you take the time and energy to undergo this mesmerizing experience); industrial and apocalyptic ugliness versus semi-divine martial elegance. It's truly remarkable that this band performs so organically, with such ease… The third piece goes on within the very same vein (Crystalline Shore), while the fourth and final sonic construction, A Wisp Of Smoke, And Salem Burns, collects all former mentioned ingredients, just deepened, explored at the same time, increased and done deeper, denser, more personal, more integer. Seriously, with its duration that clocks nearly thirteen minutes, A Wisp Of Smoke, And Salem Burns delves into the deepest pits of the unconsciousness, but the conscious memory will be hypnotized. I am for sure. This composition is a symbiosis of the better elements of all former compositions, wrapped into a gigantic, marvellous, yet mostly personal-integer outlet, constantly twisting the listener's brain – but from masochistic point of view that twist isn't but a pleasure! Seriously, after three fantastic creations, this fourth composition is like an orgiastic grand finale, defining the superior qualities by Common Eider, King Eider.
Common Eider, King Eider, fly on the cold Atlantic winds, battling the Arctic winds, glorifying on the emptiness of richness. Who needs richness, when minimalism and essence prevail… This project did find out the truth and they are able to translate it into a journey called Extinction. 'Extinction', it might be a solution…