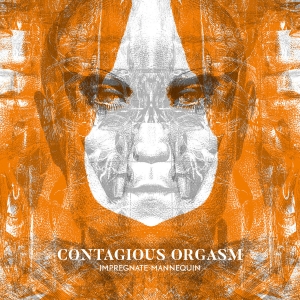 Japan has quite a vivid Noise scene, and this since the earliest years of this underestimated genre. One might even use the terminology of 'Japnoise' or 'Japanoise', with Merzbow as, probably, the most notorious name within this sub-genre, yet also profiled via other acts such as Dissecting Table, Hijokaidan (they reformed a couple of years ago), Monde Bruits, Masonna, Hanatarash, Aube, MSBR, Spore Spawn (younger yet at least as impressive), Cloaca (the same…), Thirdorgan or C.C.C.C., amongst many others. And hey, don't forget to think about Catgirl either! It's not all 'Japnoise', yet quite differing, yet it shows the huge important of the Japanese scene for sure.
At least as important and influential is Contagious Orgasm, a one-man outfit that started in the mid-Eighties. Contagious Orgasm is the brainchild of Hiroshi Hashimoto, who also runs the fine label SSSM. With Contagious Orgasm, Hiroshi did release material via labels such as his own SSSM, as well as Tesco Organisation, Ant-Zen, Old Europa Café, Harbinger Sound or Waystyx, and Raubbau too are no stranger anymore, cf. 2015's Seven Sounds Unseen. Now this fantastic German label returns with a next Contagious Orgasm release, though it has to do with a re-issue.
Impregnate Mannequin was originally recorded and mixed during the second half of the Eighties. However, it took until 1997 before it got officially released. It was via Harbinger Sound, in a very limited edition on vinyl, after being remixed and injected / enriched by newly composed stuff. Since this material is so hard to find, Raubbau's crew decided to have this material re-released on CD and via the regular digital sources, so thank you, Holger!
As said, the scene from Japan is quite diverse. Well, when it comes to Contagious Orgasm, there is a lot of things to experience. The 'Music' draws influences from several angles and styles, with a very varying result. Impregnate Mannequin consists of three lengthy compositions (you cannot call it 'songs' exactly), which are related in an organic way, yet quite differing from each-other too.
The album starts with Impregnate Wave Body, which is the longest piece with its 23+ minutes of duration. Initially the Ritual Noise / Rhythmic Noise scene reveals itself, yet soon you'll notice that there is so much more to experience. Permanently changing and evolving, this composition gets penetrated by different sonic sources and samples, industrialised electronics, sound manipulations and down-tuned, somewhat eerie drones. After a (short) while (about six and a half minutes), in a mostly brain-twisting way, the whole changes into an ominous experience, based on dark ambient synths, asphyxiating orchestrations and a lot of weird noises and sampling. Despite the complexity, everything remains so natural, deeply organically growing and evolving. Choir-like chanting excerpts, martial atmospheres, bewitching chapters and unearthly sound sources come and go, permanently enriching, enthralling, teasing - and satisfying in a masochistic manner. The final part then again returns to the origins of voluptuous Rhythmic Noise structures, quite experimental and surreal, delving deep into the abyssal distances of man's subconsciousness.
Under The Wire Head (7:29) is more repetitive, yet also constantly injected by different sounds, noises and instrumentation. It caresses a sphere of neo-Lovecraftian or Baphometian obscurity and, at the same time, enlightening meditation. That obscurity has to do with the intense, suffocating body and, especially, the ritualistic and heavy structures. The pounding heaviness of the basic repetitions are harsh and uncomfortable. Yet that enlightening aspect of meditative grandeur follows quite naturally, created by the shamanistic choir and those floating synth lines.
The third track, called Mannequin Orgasm, clocks almost fourteen minutes, and might be the most varying and experimental one out of three. It starts with low-tuned, massive drones and shrieking noises, sadistically evolving towards an industrial wall of structures clamour. Also in a repetitive manner, the first half of Mannequin Orgasm is like a never-eroding construction, including alternating yet cohesively related patterns the whole of the time. The second half returns to a repressive atmosphere, murky and gloomy. Grievous drones are penetrated by vocal samples, additional percussions and gruesome sounds, creating an intensively saturnine and infectious apogee. …a contagious orgasm it is indeed…