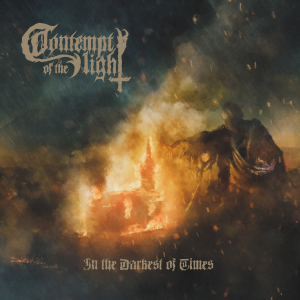 Well, it is almost incredible to notice that new labels can still make it during these weird eras of existence. I think it is the core of 'our' genre(s), the essence of our beloved raison d'être, the purity of the happy few that do know what Sonic Supremacy and Aural Art are all about.
This said (I was dwelling in some semi-poetic and visionary mental state, I guess)... No, there are still new labels being formed, for 'our' scene continuously expands and grows, because (Extreme) Metal is one of the very few 'honest' genres that remains true to its roots (and okay, don't get me started about all those fake / false / feeble / futile / f*cking posers -self-censorship-). New to me are Silent Watcher Records, a Germany-based (more specific, their head quarters are based in Kaiserslautern) label that focuses on Thrash, Death and Black Metal in general, if you want to. Despite its young age, this label is able to release a modest yet highly interesting amount of recordings.
This review deals with The Darkest Of Times, the debut album by Contempt Of The Light. It is a totally new outfit, created by no one else but Born For Burning / Unanimated's Micke 'Broberg' Jansson. Mister Mikael did everything himself, from song writing and poetry over production and recording, and the result got mastered by (the legendary) Dan Swanö. Silent Watcher Records took / takes care of the physical release, i.e. a compact disc edition (500 copies with twelve-page booklet) and a limited amount of copies on vinyl (three different colors, by the way, in an edition of 300 copies, if I am not mistaken, and all hand-numbered), besides the contemporary digital possibility. It comes with fine (cover) artwork, created by Andreas Söderlund, whom you might know for his visual creativity for releases by e.g. his very own band Abyssos, or the likes of On Thorns I Lay, Ashes You Leave, Holocaust or Weeping Silence, amongst many others. The material was initially digitally released in very early 2021, and physically at the beginning of this beautiful, sunny Summer. Beach Party Metal, baby!
No, seriously. An album like this one cannot but start with an intro, yet in this case it is almost ridiculously short. Inferno Of Plague And Pestilence lasts for less than half a minute (!), yet then again, despite its short length, it does create the atmosphere of what's next to come. Rainy sounds and distant church bells, it is as ominous as a misty moonlit winter-night. More or less within a comparable way, the short outro Released Into Oblivion (two minutes of length) comes with a same-minded spirit. Constructed around a dreamlike acoustic melody, penetrated by icy-dry vocals and atmospheric instrumentation, it's like a manifest against religious falsehood, a message before fading away into infinite nothingness.
Yet as from Serpent's Tongue, the first 'real' track, one cannot but ignore that aforementioned icy night, covered in fog and darkness, did find its perfected soundtrack. The Darkest Of Times indeed does guide you through the obscure diabolical full-moon ceremonies. This material reminds me of the more melodic and atmospheric side of the glorious Second Wave era. That means that you do not have to expect the most renewing recording in years. That would be preposterous. But there are a lot of other elements that are remarkable.
In essence, The Darkest Of Times stands for very melodious-oriented material, build around a harmonious string section. The main structures are based on nice-written and carefully performed dual / tremolo riffs, no matter if it deals with fast or slower passages, or epic, harsh or introvert excerpts. Not often, yet once in a while, a fine-tuned solo passes by as well (Shadows Under The Sun, for example, has such intriguing bathorian solo to offer [not a coincidence: the main guy behind this project, Micke, is the guy behind Born For Burning too - got it? - Ivan]). Despite the huge importance of the electric guitar performance, the result isn't just another guitar-based one at all, for all other elements are at least as important. Remarkable are the few acoustic parts. The album does not come with an overload on acoustics, yet in a modest and subtle way, there are quite some passages with acoustic string-work. The coolest thing, however, is that the interplay of electric and acoustic guitars is so fine-tuned and organic; the transition is flawless and finicking. Without fading into victorious Viking-like glory, many of these moments sound so pure and epic; other fragments are rather tranquil in nature, as if it accompanies a dark ritual, a sacrifice of blood to the Lord, or the Princess, of the Underworld.
Remarkable too is the tempo. Many comparable releases are fast-paced, unstoppable, purely focusing on sonic brutality and audible devastation. Contempt Of The Light however play mid- to up-tempo with inclusion of, evidently, both faster excerpts and decelerating fragments. But even-though the speed isn't permanently of the blasting kind, like too much other projects try to use as characterizing trademark, the intensity and inherent obscurity never fade away. The drum-section contributes in a very important way to that overpowering attitude. Drums / percussions do very a lot too, with rumbling double bass-drums versus subtle percussion-work, and blasting skin-assaults interacting smoothly with slower, repetitive beats. This correspondents perfectly to another well-balanced contrast: that of tradition versus complexity. The latter, the complexity, does not mean that this material is high-tech or progressive; it's just that well-thought technically skilled song-writing (and ditto execution) interchanging well with a somewhat 'orthodox' approach (I referred to the Second Wave before).
Micke's voice is quite raw, rusty, like a manifestation of sulfur and fire, the mouth of a demon invoking ancient evil spirits. Together with the guitar leads, this throat might act like the spine of the whole adventure, but every instrumental / vocal contribution stands at the foreground, thanks to the fabulous mix. Lead and rhythm guitars, bass-lines, acoustic parts, voices, drums and percussion; the equilibrium is top-notch. Besides, the production lacks surgically clean decency; on the contrary, it comes with an unpolished edge, a grimy coating, if you want, veiling the whole concept in abyssal stringency.
Comparisons to Dissection, Dark Funeral and Unanimated are not that strange, yet fans of Born For Burning (evidently), Necrophobic, Dawn or Lord Belial will adore this stuff too…
https://silentwatcherrecords.bandcamp.com/album/in-the-darkest-of-times
https://silentwatcherrecords.de/contempt-of-the-light-sweden/
https://www.facebook.com/ContemptOfTheLight/