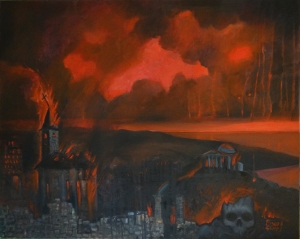 Every time when Ilya send me a new release I am excited because Corona Barathri never disappointed me before. But every time it also gives some kind of stress because it is not easy to write about this Luciferian project. This is not really music you have to listen to, it is more something you have to undergo. It's the feeling the music gives that makes Corona Barathri so special. But writing about the feeling is quiet personal and for some like me who has some kind of objectivity issue is it an hard test.
Omen Perditionis is a release for the Russian black metal project Black Goat. Again this is a masterpiece. This sounds a bit like older Cold Meat Industry work with the typical soundscapes and rhythms. An objective mind doesn't refer to other bands/projects what is good because I have the feeling it reminds me at something put I can't put a name on it. But of course, Corona Bararthri wouldn't be Corona Barathri if they won't put their own sound in it, with on top the typical invoking voice of Lamia Culta. Ending with some rainy Gregorian sounds Corona Barathri delivered again a jewel. Less haunting as Anima Tenebrarum but a must for everyone who is into dark ritual music. Also this is available through bandcamp.
2018 started good and more to come. Their Nox Mali EP and a collaboration with the awesome Canadian death metal band Atroce and new releases from Raison d'etre and MZ412. Life can be beautiful after all.
https://corona-barathri.bandcamp.com/album/omen-perditionis-for-black-go...