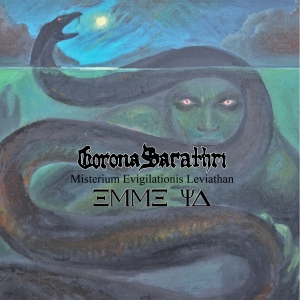 Album Title:
Misterium Evigilationis Leviathan
Since a couple of years, I am the sole reviewer for Concreteweb. No further comment on the reasons, especially after the passing away of my great friend - and devoted Music-fan - Dirk, who started this webzine at the end of last century. Some left because of personal issues, some because of emotional connections, and several were just assholes, dickheads, selfish and stupid humans. Homo f*cking sapiens indeed, way too important to get no physical stuff anymore, yet just digital – aaargh, don't let me start about those f*****…
That's also the reason why the stylistic focus changed from a 'general Rock and Metal' outlet to a promotional webzine that delves deeper into the most obscure dimensions of the sonic spectrum. I want to focus (much) more on the "underground" instead of to those major labels that will have a thousand of reviewers all over the world. And that's why I had the chance to widen the aural spectrum of this site, with introducing other yet related genres. That's as well a main raison why my brother's interest penetrated this (fabulous) site. My brother Peter did write four reviews for Concreteweb in the meantime, and all of them were dealing with material from Affectvs or his main outfit / collaboration Corona Barathri. Just enter those names in the 'search' tab and you'll discover our mutual passion for his projects. But now it is I who will deliver a next essay.
This release is a split in between two projects that wander within the darkest netherworlds of occultism. The material gets released both digitally as on compact disc, be it in three different - and strongly limited, so hurry - editions. One of them even includes a t-shirt! You must check this out on the Bandcamp-sites of Corona Barathri or the label involved, Noctivagant Collective. The latter is a fabulous label from Albuquerque, New Mexico, specialised in ritualistic stuff. Both projects on the split, by the way, have released material before on this label, that started in 2011, if I am not mistaken.
Misterium Evigilationis Leviathan opens with a couple of incantations by Corona Barathri. As mentioned before, you can find out more etc… The material was recorded during the second half of 2017, and in its totality, it dedicates the principle of Principivm / Leviathan, paying tribute to Samael (and friends). Affectvs (darkest soundscapes) and Kein (ritual instruments & mastering) were assisted by Lamia Culta / Fosco Culto on vocals (once more) - also responsible for the main artwork, Nahemoth's Ayzen Kaos for guitar duties, and Edgar Kerval on the first track.
The ceremony opens with Gvia haRaal [intro], which features Emme Ya and Fosco Culto. It is like a haunting invocation, based on eerie sounds, ritual drones, tribal sounds and percussions (including chimes, bells and so on), and different vocal types: angelic chants, conjuring words, demonic growls / throat singing. The song feels like a mesmerizing and asphyxiating spell, a morbid prayer for the awakening of dark spirits beyond physical dimensions. The last part also introduces guitar droning, also both bewitching and suffocating in combination with the industrialised structure and haunting melodies. Melek haTehom [LWYTN - MLK HTHWM] (8:38, and the shortest composition on this album) starts in a different way, with little epic acoustic guitars by Ayzen Kaos, yet the core remains the same. When Fosco Culto (Lamia Culta) starts her incantation, you know that the gates will open soon. Much more vocal varieties join soon (like esoteric and mystic Sumerian / Babylonian / Mesopotamian chants, or confronting, murky grunts and growls), pushed by pounding tribal drumming and shades of hypnotic opacity. Listen to the grand finale of this song, with its Middle Eastern flair… Then comes the title track, which is the lengthiest one (almost fourteen minutes), like an epos of ritual grandeur. Once again it assembles that splendid vocal range, with ritual / spiritual sonic constructions and oppressing atmospheres. Misterium Evigilationis Leviathan is like a monumental journey through, or towards, cults long forgotten, breath-taking, organically correct, and even meditative at some point. The craft of the Old Gods, it's a tribute to their manifestation and conflicts. This goes for the next piece, Nahash Kadom [SMAL - NHS KDWM], too, though here is even more of the tradition once born many centuries ago. Slowly the haunting soundscapes crawl forth, at the same time enlightening and claustrophobic in essence. The atrocious voices at the end just strengthen the intensity of the atmosphere.
Emme Ya is one of the main outfits (I guess the most important one, actually) by Edgar Kerval, known from The Red Path and under his own name, and formerly also involved with e.g. The Red Angle, Nuit, :Archaic:, NOX 210, Lux Astralis or Totem. This musician from Colombia focuses on Qliphotic, atavistic, occult, mystic and magical subjects, and this specific project, Emme Ya, deals with rituals from 'a black planet with two suns'. 256 = 11x23, but that is a lapsus to my opinion (11x23 = 253!) - something to be discussed… The three lengthy tracks were created in 2017, and the last one features Corona Barathri.
The adjurations on the Emme Ya part are the reflection of Edgar's aim to translate esoterism, mysticism and occultism into aural transformations. Once again, he easily succeeds to impress, and overwhelm, with his intense, heavy soundscapes. O Tehom, Ars Leviathan, Theli Ipakon Theli Marag and Vxit Nugal Loriol [outro] (which features Corona Barathri) are like monumental, burdensome and hypnotic rituals, quite trancelike and contemplative, almost Lovecraftian in their abyssal obscurity. The monotone minimalism sounds perfect in its symbiosis with those gloomy spheres and diabolical ambience. Especially the vocal range contributes to a suffocating sonic experience, but the industrial / electronic nihilism and those many layers of eerie soundwaves canalise an atmosphere so ominous and dystopian. These three hymns twist and disturb, painting a dreary post-astral landscape from which you cannot escape. Vxit Nugal Loriol [outro] especially is such ecstatic highlight, lugubrious yet majestic. An invitation for Lucifer – who would deny this offer…