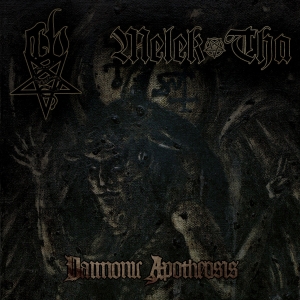 [review written by Peter Tibos]
Corona Barathri (Rus/Ukr) and Melek-Tha (fra) are two masters in creating a Luciferian sound, each one in his own way.  Daemonic Apotheosis is a split/collaboration, released on Noctivagant Records and limited on 129 personal-numbered copies. This album contains 3 songs of each and 3 collaborations.
Corona Barathri stands for dark and evil atmospheres. Dark soundscapes, ritualic rhythms and the daemonic growls and invoking verses of Fosco Culto. If your mind is strong enough the perfect music to listen in obscure and abandoned places. The persistent daemonic spheres lead you to the way to the gates of hell to appear in front of the master himself. Oraculum Tenebrosum is a real inviting jewel. The rhythms bring you in a trance and takes you in front of the altar. Surrounded by evilness and reciting texts of this Luciferian cult.
I have known Melek-Tha since their debut 20 years ago. At that time, I was really submerged in (true) black metal and never gave the band a fair chance. Plausibly back then, I was not all set on genre like Melek-Tha. Through the years, it has finally penetrated my soul. Just like the band Corona Barathri,  Melek-Tha is lord evil in mastering the creation of dark and evil atmosphere in a more precarious way. As much as I despise to associate its music, I find a slight In Slaughter Natives in it or vice versa. ISN is somewhat hollow sounding and I find Melek-tha imposing nonetheless. The band's song Blasphemic Dogma is a good paradigm of this. The power and bombast in this song is almost unseen. It is absolutely one of the 5 best songs I got to learn this year. A song that is builds up and takes you to a real apotheosis. A decent sound installation is a must when listening to their album, otherwise, a great deal is lost. Headphones in full volume, and a stroll in the darkness that sometimes I do not realize I am still walking in this world.
This album also contains 3 collaborations of Corona Barathri and Melek-Tha. A fusion that works in an impeccable sort of way. Dark Heresy shows us that if two of the biggest Masters of Luciferian music work together, this is what they could create. Melek-Tha's bombast, Corona Barathri's dark sounds and the haunting howls and screams of Fosco Culto are perfect synthesis. It is intolerable to resist the reciting rhythms or the demented laughs and moans of Fosco Culto. By far, this is one of the best things I ever heard in this life. It is an actual journey through the gates of hell.
A journey through the gates of hell is what certainly this album is. Its music is for the darkest among us. Great Luciferian ambient album with some exceptional songs. A must for anyone who likes dark ritualic music. Daemonic Apotheosis is available through Bandcamp. It is only limited to 129 copies.  I assume that they will be sold out soon enough. If you happen to crave for an original, you can always ask information from Noctivagant Records. If you consider yourself as a dark soul, this album has to be in your collection. Watch out for Triumph of Death, the forthcoming album of Melek-Tha - it will come out in the end of this year - or Corona Barathri's newest EP Nox Mali. I have heard some stuff already and I tell you, they really sound great! Already looking forward for it.
Peter Tibos
[thanks, once again, my dear brother and same-minded anti-humanist Peter, for doing a great review in order to support the most abyssal aural side of mankind's sickness]