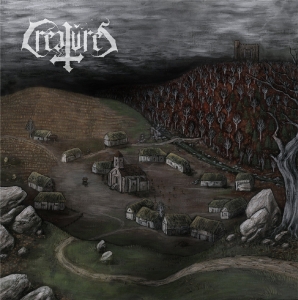 Release Date:
Tuesday, October 25, 2016
Not that long ago I started co-operating with Antiq Records, which crew did send me a couple of (great) recordings (check out the review I wrote for Syrian one-man army Chained, for example, posted on March 21st 2017). But this release was brought to my attention by Noémy from Solstice Promotions, just like new material from Ayin Aleph or Digital Nova, for instance (to be heard of quite soon).
Créatures is a solo-outfit by Sparda, created at the end of last decade and subdue to many years of painful silence (after the 2009 demonstrational recording, things went silent until now). With Le Noir Village ('the black village'), Créatures will tell a story on a medieval village that got attacked by evil spirits and monsters. It's like an opera, with each character 'narrated' by another vocalist (some of them known from acts such as Aezh Morvarc'h, Hanternoz, Ordo Blasphemus or Borgia). The conceptual album gets released with a 16-page booklet, which includes artwork created especially for this specific release. Everything was written as from 2009 until 2013, and recorded afterwards over a period of a couple of years too, co-produced exclusively by the label.
The concept, written in its entirety by Sparda himself (also: song writing, electric and acoustic guitars, bass, organ, voice, bells and chimes, ocarina, piano etc.), is in French, and deals with the tragic history of Lothaire (interpreted by Sparda) in the small community called Cloaric during the first half of the twelfth century. The total running time clocks one hour, so that's another link to Opera in a wide sense.
Anyway, you can expect quite some variation, of course. Since each individual character gets interpreted by another singer, there's a wide range on vocal styles, evidently. Sparda's figure is rather of the heavily shouting kind, with some deadlier outbursts and the addition of clean vocals / spoken words. Also the other roles involved get sort of typified by an own appropriated vocal timbre.
Since the whole concept is like a cinematically story, the different chapters are quite distinctive as well when talking about the compositional structures: faster blasts for the horrifying parts, semi-acoustic moments when there's more emotion, etc… It's quite logically build, as a matter of fact, but that diversification in e.g. tempo and structure gives an additional dimension to this aural movie. So there's quite a lot to experience: fast eruptions versus slower passages; spoken semi-poetic intermezzi versus evil-evocative ones; bombastic excerpts interacting with light-emotive pieces; exciting moments and introvert tranquillity; epic versus integer; harsh, spooky and / or painful. Besides, Créatures make use of (unusual) instruments too in order to globalise their open-minded approach, such as violin and violoncello, Tibetan horn (dung chen), trumpet, tombak drum, and several other percussion instruments (church bells, chimes, darbuka, dab, udu etc.) (PS: sometimes performed by session / guest musicians).
So, there is quite something going on, and a lot to experience on this album. The main thing is: can you consider Le Noir Village as a recommendation or something to forget about… But that's a personal choice, of course. Because of the overwhelming load on diverse stimuli, there is a painful lack of cohesion, unfortunately. It might seem as if Sparda had some great ideas to work out, which he did, but with a result that does not totally cover the concept he had in mind. It's like that Italian act Dawn Of A Dark Age, also coming with some magisterial ideas and concepts, yet the incapability to translate it decently into a sonic interpretation of what's spooking around in the main member's head. With certainty, I can say that there might be something attractive for sure for every open-minded listener: faster Death Metal outbursts, ritual Trance-passages, epic Nature-inspired intermezzi, ominous Doom chapters, symphonic Ambience, Progressive creativity, Horror movie soundtrack-alike stuff, evocative rituals, blackened nastiness, operatic chants, Oriental details, groovy interludes, etc. But as said, that's quite difficult to define in your place, dear listener, so I do recommend to listen to this stuff at least twice before buying the digital or physical edition.