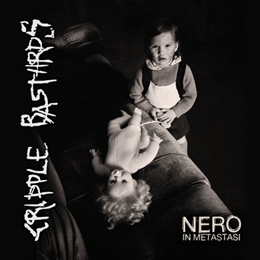 Release Date:
Friday, February 14, 2014
In spite of my rather varied experience as a music listener, I keep coming along occasional surprises, usually of the pleasant nature!
Take this band called Cripple Bastards now: they've been around for over 25 years now, and in that time released 12 cassettes (mostly split tapes – one of which with Belgium's own Agathocles – on their own EU '91 Produzioni label), 29 EP's (on several labels, mostly on 7-inch vinyl splits – including the likes of Social Genocide, Capitalist Casualties, Carcass Grinder, Wretched, P.E.L.M.E., Regurgitate, Eyehategod and Sublime Cadaveric Decomposition as the "other band"), and a total of 2 full-length compilations (1996's Best Crimes and 2001's Almost Human) and 6 studio albums (1996's Your Lies In Check, 2000's Misantropo A Senso Unico, 2003's Desperately Insensitive, 2008's Variante Alla Morte, 2010's Frammente Di Vita, and the current album) thus far. They have contributed tracks (sometimes exclusive) to over 30 compilations (on a variety of now classic labels in the genre), and there's even a tribute album (2000's Falafel Grind: 32 Bands Proving That Cripple Bastards Suck!, on Obscene Records) on Cripple Bastards...and yet I had never before come across this band!
Based in the North-Italian town of Asti (situated between Genova and Torino, at some 55 km ESE from the latter), the band was formed in 1988 by singer Giulio the Bastard (then 14 years of age) and guitarist Alberto The Crippler (aged 17) in an effort to keep their area on the Hardcore map, as most of the other bands of the era and area were breaking up. Originally playing a Metal-influenced Punk under the name of Grimcorpses, the duo soon decided to go for a more extreme style, combining Hardcore and Metal with Grindcore influences. In essence, they sought to keep the spirit of Italian Hardcore greats such as Cheetah Chrome Motherfuckers, Negazione, Raw Power and Wretched alive, and added something extra through the veneration of the Fastcore/ Grindcore bands which they knew from such labels as Children Of Revolution, Selfish, Earache, Peaceville and Manic Ears. The stylistic change also came with a change of bandname to the current one. Throughout their history, several bassists and drummers came and went, but when Alberto abandoned music in 1998, the band's first stable line-up (comprised of Giulio, guitarist Der Kommissar, bassist Schintu The Wretched and drummer Al Mazotti) was formed.
Funnily enough, that's also when things started to look ever more positive for the band, who got invited to several international festivals after that, including Germany's Fuck The Commerce (2001), The Czech Republic's Obscene Extreme (1999-2001, 2003, 2006, 2010) and Brutal Assault (2009), Maryland Deathfest (2007 and 2011) in the US, and Holland's Neurotic Deathfest (2011). To date, they have played over 300 gigs, a lot of which during the three major tours the band did (Europe 2000, US East Coast in 2002 and US West Coast in 2003). Among the big names CB shared the stage with can be counted the likes of Brujeria, Brutal Truth, Chaos UK, Dismember, Extreme Noise Terror, Haemorrhage, Municipal Waste, Napalm Death, Pungent Stench, Ratos De Porão, Rotten Sound, Suffocation, Varukers, and Wehrmacht. (for more detailed informations, check the band's Wikipedia page - whence the info here displayed was partly culled - and the band's own website)
Following their last studio album of original material, 2008's Variante Alla Morte, and the ensuing festival appearances and touring, the band's been on somewhat of an introspective mode. A 4-disc box set entitled Age Of Vandalism, which compiled all of CB's demos and pre-vinyl recordings from 1987 to 1993, was released through Selfmadegod Records, and 2010's Frammente Di Vita was actually a covers album, with CB paying tribute ti Italian greats such as Bulldozer, Necrodeath, Negazione and Raw Power, among others. CB signed a deal with Relapse in 2010, and soon after released a split 6-inch with Spanish label mates Looking For An Answer. The first proper release on Relapse was the 15-track 7-inch EP Senza Impronte, issued in 2012. Gigging during that time was pretty hefty, and included a full-blown Brazilian tour alongside all the festivals.
CB themselves have called their music 'controversial Hate Grind', and a man not unfamiliar with Extreme Metal, Eyehategod's Mike IX Williams, has called it "Brutal-Fucking-Grind", stressing on the "Brutal" part as something CB should've copyrighted long ago, as a means to prevent most "heavy" bands from overusing the term! Truth is, CB IS fuckin' brutal, man! Their music is loud and aggressive, but includes the necessary melodic parts in order to make that violence the most effective. They bring their lyrics in their own language, which is pretty original, when you think about it (I mean, today everyone just wants to sing in English, you know, in order to allow their products to be sold to the broadest public possible -ppfffaaahhhh!). They also do their vocals in quite a uniquely original way. With screams and grunts for starters - as seems to be ordained by the Grind genre – but also by incorporating spoken word passages done in a wacky bass voice). Obviously, the songs are usually rather short [cutting out the exceptionally short (3 songs totaling only 35 seconds) and long (the 9-minute "Splendore E Tenebra") you get an average of 1 minute and a half], yet each of 'em is laden with effective melody! I mean, these guys may not have as much variety within a song like, for instance, Dream Theater would have, but the songs dó tend to hang onto one's mind.
At the band's own website (www.) cripple-bastards.com, you'll find links to the band's pages on Soundcloud, Last.fm, iTunes, twitter and facebook (and the latter will give you a link to the album's Bandcamp page in its "Music" section). If you're into the more extreme genres of Metal, or are already a convinced Grindcore fan, then Cripple Bastards should be in your collection of CD's, 7-inches, or LP's. At least, you oughta check 'em out. Do it now, and you'll certainly find yourself looking out for anything by the band from now on! Yeah, I LOVE what these guys bring here, proof of which the maximum rating, and the inclusion of Nero In Metastasi in my "Best Albums Of 2014" lists!