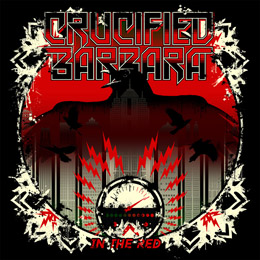 Release Date:
Friday, September 12, 2014
Line-up:
Mia Coldheart – Vocals/Guitar
Klara Force - Guitar
Ida Evileye - Bass
Nicky Wicked - Drums
The Swedish ladies from 'Crucified Barbara' are together since 1998. Until 2003 they were with 5 band members, but after they began to play with 4 instead of 5 the ball began to roll with their 4th album 'In The Red'.
The band makes a solid form of hard rock which leans up against metal. 'Motorhead' isn't that far away. The album is full of melodic guitar riffs that don't sound that tough to play but it sounds terrific. And that proves that Music doesn't always have to be complex to sound good. The raw voice of 'Mia Coldheart' is the trademark of the band. An awesome rock and roll album with not too difficult songs on it, but it's obvious that they have more up there sleeve when they play live than on the record.
The first song 'I Sell My Kids For R'n'R' , 'Don't Call On Me', 'In The Red' and 'Finders Keepers' are the songs that stand out the most on the album.
Tracklist :
I Sell my Kids for Rock'n'Roll
To Kill a Man
Electric Sky
The Ghost Inside
Don't Call on Me
In the Red
Lunatic #1
Shadows
Finders Keepers
Don't You Want Me
Follow the Stream