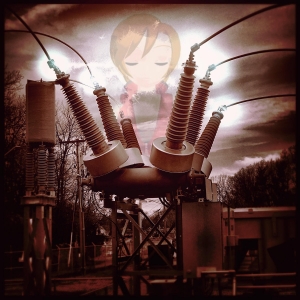 Very recently I came in touch with a new label, based in Boston, MA, US of A. Main reason was the cassette release of a new EP by Cryostasium, a unique love-it-or-hate-it one-man orchestra by Cody Maillet. I will come back to this immediately. Yet first I want to express my astonishment yet huge respect for the label, and this because of its raison d'être. Fish Prints was started just a couple of months ago by Cody's twin brother Thor, releasing 'curious sounds, past and present'. The first release was the re-issue of a demo from 1990 by Nelories. I recommend you to check out the label's Bandcamp page to find out, well, let's call it surprising: https://fishprintsinc.bandcamp.com. Quite the same, by the way, goes for the newest, third tape release, which is a re-issue of another EP from the Nineties, Enter The Partyzone by Barbara Morgenstern. In an ironic way, I do appreciate both these re-releases a lot. No further comment on these recordings, for that's not what this review deals with. I just wanted to introduce you to this weird label.
So, as second release, Fish Prints came up with something totally different from the first release. And since I have a weird yet convinced adoration for Cryostasium (yes, I'm mad, I know), it was my pleasure to get through this new material. The Possessor is an EP with nine hymns, written, recorded and produced by Cody with assistance of his brother (I come back to this soon), and mixed + engineered by Petridisch, who is no stranger to Cryostasium at all – sounds mysterious, yet Petridisch and Cody have a genetic connection as from birth… Looks quite strange, haha… But that's up to you to find out… Anyway, the material is available via digital sources (please visit the Bandcamp-page of the label – see link above – or the band) and on tape. The cassette comes in a very limited edition, including a 'glow-in-the-dark' cover button, and with cool, expressive cover artwork by Cryostasium and Erik Jackson.
The Possessor is an EP by Cryostasium, yet I would rather call it a collaboration of Cryostasium and Petridisch. Reason is that five tracks out of nine are mentally-ill created and brutally executed by Cryostasium, while the four other ones are done totally by Petridisch. Both approaches do differ from each-other, yet in an organic way they are connected in a love-like marriage too.
Those trusted with Cryostasium might know what to expect. With his main outfit, Cody performs a mostly frenzy, malignant and skull-crushing form of little repetitive yet, at the same time, melodious Black Metal. As always, the sound is so grim, necrotic and raw. Actually, the sound is under-produced, yet since this has been done that way on purpose, and connecting it with the concept and atmosphere, this is so fine to experience. But be warned: the production sucks in a great way. Rough guitar lines, little hypnotic in essence, are supported by a malicious rhythm section, with pushing strings on the background, and militant percussion (programming?). Besides, all this gets enriched with some sounds and sampling, and electronic stuff (cf. the second chapter). Vocal-wise, there is not that much recorded: the Vocaloid-alike voice (Meiko?) appears in the first track, and some other pieces come with limited (in amount) deep-gurgling grunts and acid-laden, shrieking screams. Especially the fourth and fifth chapter (my favourite track on this EP!) truly contain this quasi-unhuman, wretched and sadistically forced, yet magnificent throat molestation.
In between the five terror-tracks, you'll enjoy four short (three of them clock less than a minute) instrumental intermezzi, created, as mentioned before, by Mister Petridisch. These ones are synth-based intermediates, flavoured with found sounds and samples (crickets and birds play along!), quite tranquil in essence yet, at the same time, disturbing and asphyxiating too. It's great to enjoy a fine and natural symbiosis of synthetic noises with organic additions. The completion is as primal as the Cryostasium tracks, which strengthens the total experience of The Possessor.
To my opinion, which is of major importance evidently, The Possessor is one of the best recordings by Cryostasium. Okay, it goes totally on in the vein of most earlier material, and it does not bring something renewing at all. besides, the production sucks as much as ever before. But there is so much depth and honesty going on. You must give it a try for sure, at least if you're not raving with those clinically polished acts on some major label – these modern shit-bands are just [self-censorship]…