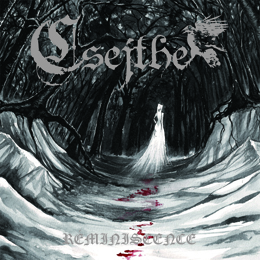 Canada is one of those countries with more than one single official language, i.e. English and French. Since most bands from all over the world have their lyrics in English, I have a passion for those who dare to use their mother tongue. Especially in Germany and Poland that's the case, but I guess all existing languages have been used in mean time.
In Canada most bands perform in English, even a couple of bands from the French-speaking regions. Since there's an enormous psychological (chauvinistic) border between both populations, most of the Québec-based acts, however, prefer to write their lyrics in French. This goes for Csejthe as well.
Csejthe released two fabulous records before: the full length La Mort Du Prince Noir (death of the black prince; Mankind's Demise, 2009) and the EP Transcendance (transcendence; Morbid Winter, 2010), and now, as a three-piece formation (Strigat, Fiel and Bardunor), the band will release the second full length, called Réminiscence (reminiscence). The album is dedicated to my sweet countess Erzébeth Bathori (whose castle, by the way, was called Csejthe – you see the connection?). Indeed, it could mean a non-original lyrical approach (hundreds of bands have used Lady Bathori as their main source of inspiration), but this band is one of those who are able to exceed superficiality.
Réminiscence is a forty two minutes epic in the vein of the former material, but with a more mysterious and occult approach. The album stands (again) for rather slow, funereal, depressed / depressive / depressing, oppressive, autumnal Black Metal with a fantastic Nordic-based underground sound. The haunting melodies and grimly ice-structured compositions come with both (Funeral) Doom and Natural Ambient elements, mystic atmospheres of spiritual occultism, and an aesthetically correct symbiosis of eerie morbidity and transcending dynamics.
The tempo varies again in all speeds, from slow and pounding to energetically rhythmic. In both cases, and every option in between, it stands for powerfully elaborated force, bringing the listener to an ecstatic level of aural satisfaction. And a couple of times, the album gets interrupted / injected with short instrumental pieces of floating and distant Ambi-Goth-Symphonic tranquility; a nice counterpart to the utmost enduring medieval Torture Art translated in musical soundscapes (i.e. Black Metal, aaarghhh!).
I'm sure Milady Bathori would have this kind of audible craftsmanship in mind when bathing in virgin's blood to reach utter beauty and eternal youth. And who could blame her?