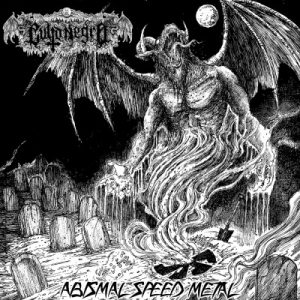 Release Date:
Saturday, October 15, 2016
For one reason or another, Satanath Records and sub-label Symbol Of Domination Productions have some secret passion for the Costa Rican Extreme Metal scene. Both labels did release material from acts like Colemesis, Inhuman, Assailant and Ubiquitous Realities, The Eyes Of Desolation, Alastor Sanguinary Embryo, Ancient Spheres, Corpse Garden, or international act Black Whispers (which does include a member from that Middle-American country – otherwise it would be quite stupid to refer to them, is it not?!). Within that list, Culto Negro do appear too. Culto Negro are a young formation with experienced members (cf. their involvement in bands such as Paganus Doctrina or Corpse Garden). Recordings created by most of higher mentioned bands have been reviewed by undersigned in the past, so if there might be any interest: enter the band's name to find out…
Anyway, this quintet released a digital two-track single at the very end of 2015 (it has been re-released independently on CD too afterwards in an extremely limited edition as a collector's item), and both pieces reappear on Abismal Speed Metal too. The seven (relatively short) tracks were recorded, mixed and mastered at the famous Cavan Studio (think Bufonic, Paganus Doctrina, Advent Of Bedlam, Insepulto, Assailant etc.) with Isak Arroyo being the guy who was allowed to play with the knobs on that mixing panel… The result, therefor, is a great professional sound quality, holding the middle in between the fine-tuned essence of the modern equipment, and the rawness that characterises the sonic identity of the band.
Abismal Speed Metal indeed stands for Speed Metal, mixed with huge doses of Black Metal, and hints of Thrash and Heavy Metal from the Old School. Fast and energetic riffs and rhythms are like the spine, supported by venomous and blood-spitting screams and piercing solos and leads. The rhythm section (drums, bass guitars and rhythm guitars) is quite brutal, yet it withholds a crafted eye for melodious details. In combination with the lead parts, it's not that unimaginable if earlier Possessed do come to mind.
Two other surpluses, besides the professional craftsmanship of the musicians and the correct sound quality (and I did not mention the appropriate artwork either, done by Alan Corpse of Leprous Hands Arts), are the not-a-joke attitude at the one hand, and the variation in tempo at the other. Okay, of course the better part is speed-up, violently fast, even blasting from time to time. The drum patterns and the fire-breathing solos strengthen this element. But more than once, everything decelerates, leaving you with the opportunity to respire. And with that 'not-a-joke attitude' thing I am referring to the band's identity. Culto Negro are not like a fun-band, or a bunch of friends, jamming together, playing covers to pay tribute to their heroes. No, it's quite clear that these guys take it quite serious. 'Quite' serious, and not 'too serious', for still it's their joy to play f*cked-up Music, paying honour to the roots of Extreme Metal.