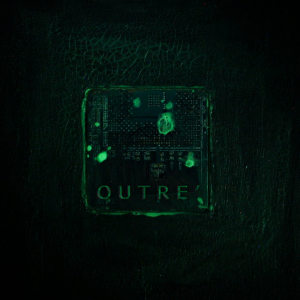 Release Date:
Thursday, January 14, 2021
About two and a half years after the splendid album Aphotic, Ukrainian outfit Cut The Light return, once again via Black Mara, with another dark-industrialized ceremony, this time called Outre'. Those trusted with that former one might know what to expect, because Outre' strongly continues the vain of Aphotic, although it is remarkable that the length differs a lot. However, Outre' too consists of quite lengthy compositions, and the six pieces clock three quarters of an hour (Aphotic is more than half an hour longer, no kidding!).
That said…
Black Mara has two great things: (1) they release material from truly magisterial projects and (2) those releases are not 'just vinyl' or 'another compact disc' (important note: there is nothing wrong with 'normal' editions, of course!!!). It's just, well, this label from the Russian city of Novosibirsk (at the South of the Russian Federation, not that far away from the border with Kazakhstan) always comes up with limited yet very special editions, handmade, with original additions, whatever. Well, this goes as well for this second Cut The Light album. Okay, there is the contemporary digital download, but there are two physical editions too – very limited, evidently. There's a tape in a wooden box with textured cover, individually handmade with booklet and 'technical elements' (whatever these might be), and there is a unique compact disc edition (and that's the one I got – actually, it was a present from my most lovely wife).
That CD-version gets released as 'book', i.e. in so-called A5-format, packaged in a hard two-piece cover with some textured relief in front. It's a piece of some computer board and a fragment of so-called 'glow-in-the-dark' slime. All of them are individually made, so not one cover is totally alike, by the way. Both wooden 'plates' are bound, connected, by two metal rings. Inside the so-called 'extraterrestrial' book are carton-boarded design pages which include bizarre and mostly horrific drawings / paintings and some liner notes and general information (titles, collaborators). Not for the first time, the artwork got directed by frontman Andrey in symbiosis with long-time collaborator V. Petera.
Anyway, from sonic point of listen, Outre' brings a mostly eerie form of Ritual Dark Drone Ambient with a horrifying identity. The hum of conveyors, where pieces of flesh and iron are moving endlessly. There are also buckets that pour a viscous liquid of dark red color into vats. Pumps that pump other substances. And the smell of rotting flesh mixed with the smell of metal. But I don't see where this is all going to. What's next for me? See at least one living soul… Can you sense the asphyxiating tension, do you feel the inherent claustrophobia, the schizoid threat lurking…
And that's exactly what you'll experience when listening to this second Cut The Light recording on Black Mara: an ominous, grim, terrifying and mischievous trip through the most obscure dimensions of the psyche, translated via the metaphor of utter anxiety when being lost in an unknown place where death and fear, iron and blood, dwell around.
The six chapters actually work as one story, as one cohesive adventure, where those six individual 'fractions' act as a next line within this breath-taking and unnerving narration. The better part is created around ultimately eerie sounds, Arctic keyboard manipulation, and industrialized noises. Metallic drones, gloomy keyboard-waves, vibration ambience, noisy bass-lines, smothering sound(e)scaping, cosmic elements and eldritch electronic sequences are fused into an unphysical adventure, which continuously increases, fades away, arises once more, vanishes, and manifests once more. But one thing remains, as a permanent link, the red thread, and that's the stifling, menacing sonic basement, leaving no room to breathe, to relax, nor to escape.
It is not easy to administer or to offer a decent and profound dissection of this sonic experience. It just needs a listen, or better: several listens. Each time, new elements get materialized, each listen causes manifestations unlooked-for of audible discomfort (and ah, I like aural discomfort…). There are no 'structures' behinds those compositions, yet Outre' must be seen, and considered, as one huge apocalyptic symphony, a symbiotic and organic play of sound, constructed of noises from different sources (instead of a collection of 'songs').
Futuristic technology and vivid flesh, a combination that appears in many Horror / Sci-Fi movies, now perfected as soundtrack, as Aural Art for the Wicked and the Dark Souls…
https://blackmara.bandcamp.com/album/outre
https://www.youtube.com/watch?v=5arkXBJv6Qw&t=5s