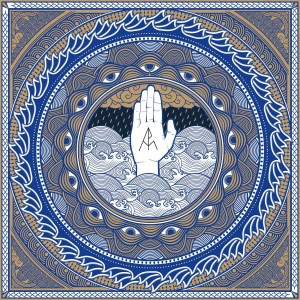 Release Date:
Saturday, September 19, 2015
Déluge are a young quintet from the French city of Metz, formed in 2013. In 2014 the band independently released a very limited demonstrational recording on tape, from which the three tracks do appear on this album as well. This debut full length, nicely called Æther, was recorded / produced by the band itself, engineered by Fifteen-guitar player (and ex-X-Vision) Chris Edrich (he did some studio work before for bands like Sekmeth, S-Core, Smash Hit Combo or Fall Of Death), and mixed + mastered in the U.S. of A. by Joy Sturgis (known from mixing and mastering duties for the likes of At Daggers Drawn / Sea Of Treachery, Forever Storm, Woe Of Tyrants, Hate In Flesh, Walking Dead On Broadway etc.). The band signed a deal with one of the most surprising labels from France, Les Acteurs De L'Ombre Productions, with this first studio full record as result. And before focusing on the aural spectrum of this release, first a word about the artwork: very different yet quite cool, created through the mind of Jean-Emmanuel 'Metastazis' Simoulin (aka Valnoir), who took care of the artwork, lay-out and / or photography for famous bands such as Blut Aus Nord, Heretoir, Alcest, Ulver, The Black Dahlia Murder and many more.
But now it's time for the sonic side of this release, and within the tradition of Les Acteurs De L'Ombre Productions, this material is quite of the same angle too. With Æther, Déluge bring fifty six minutes of stormy (!) (cf. the permanently re-appearing sound of thunder), raging, rough and hammering (Post) Black Metal. The material is quite melodious, and it comes with a touch of Post-Hardcore nastiness. Several pieces are injected with semi-acoustic excerpts, which in some cases carry a specific funereal emotionality (cf. acoustic details from the Funeral Doom-scene). This, at the same time, sort of defines the relationship in between tradition and the 'post'-aspect. A couple of times I seem to notice subtle elements from Post-Rock and even Americana (especially within some specific guitar melodies), and prominent hints of Sludge aren't stranger to this album æther, sorry, I mean either.
Finally this: the track Mélas-Khõlé features vocals by no one else but Alcest's Stéphane 'Neige' Paut – and let's admit that many of Neige's bands / projects are quite comparable, in one way or another, to Déluge's performance. Yet still the latter isn't just some cheap copycat; on the contrary, I do appreciate their self-faced execution.